Coronaviruses (CoV) are a large family of viruses that cause illness ranging from the common cold to more severe diseases such as Middle East Respiratory Syndrome (MERS-CoV) and Severe Acute Respiratory Syndrome (SARS-CoV). A novel coronavirus (nCoV) is a new strain that has not been previously identified in humans. The current outbreak of novel coronavirus (COVID-19) was first reported from Wuhan, China, on 31 December 2019*
COVID-19 causes respiratory illness with most cases reporting mild symptoms similar to the common cold or flu. A proportion of people, especially older people and people with pre-existing medical conditions develop severe pneumonia. Surprisingly, for unknown reasons, younger people appear to be more protected, which is similar to a trend observed during the 2003 SARS epidemic.
People can catch COVID-19 from others who have the virus. The disease spreads primarily from person to person through small droplets from the nose or mouth, which are expelled when a person with COVID-19 coughs, sneezes, or speaks. These droplets are relatively heavy, do not travel far and quickly sink to the ground. People can catch COVID-19 if they breathe in these droplets from a person infected with the virus.*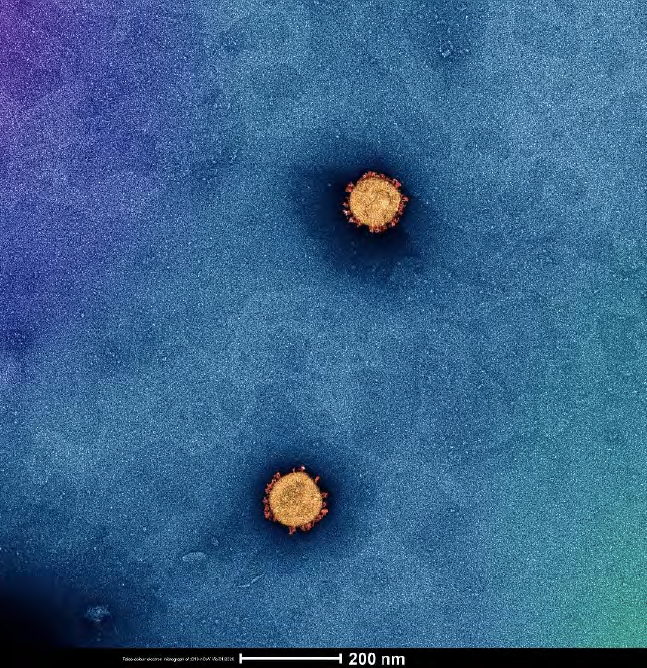 High quality image of SARS-CoV-2 captured on 7 February 2020 by Dr Roberts with technical assistance from Dr Andrew Leis.
The global burden
On Thursday, 12 March 2020 the World Health Organisation declared the COVID-19 outbreak a pandemic. Worldwide, out of 59,620,502 confirmed cases there have been 1,406,283 deaths. There have been a total of 27,848 cases of COVID-19 infection in Australia to date, and 907 confirmed deaths. (Correct as of 2 December 2020).
The Doherty Institute's expertise
Our team of experts here at the Doherty Institute continue their vital work to minimise the impact of the novel coronavirus. We have clinicians treating patients in hospitals; scientists continuing to perform tests on suspected cases; epidemiologists working closely with the state and Commonwealth Governments on policy; and researchers working on antibody tests, treatments and a vaccine.
You can support further research to minimise the impact of the 2019 novel coronavirus by making a donation here.
---