Buruli ulcer (also known as Bairnsdale ulcer) is an infection of skin and soft tissue caused by the bacterium Mycobacterium ulcerans. The toxin made by the bacteria attacks fat cells under the skin, which leads to localised redness and swelling or the formation of a nodule (lump) and then an ulcer.
Although Buruli ulcer is not fatal, the infection can often leave people with significant cosmetic, and sometimes functional, damage to limbs.
Cases of Buruli ulcer have increased significantly in Victoria in recent years, particularly along the Mornington and Bellarine peninsulas, and the disease is spreading into new geographical areas. Over the past few years, Victorian scientists have been conducting intensive research in a search for answers around the puzzling aspects of this condition. Although it's understood that the infection is picked up from the environment, it's not yet known exactly how humans become infected with the bacteria, or where in the environment the bacteria prefer to live. It is not thought to be spread person-to-person.
The Beating Buruli in Victoria research project
The 'Beating Buruli in Victoria' project received its first National Health and Medical Research grant in 2018, allowing the collaborative partnership established between the Doherty Institute, Victorian Department of Health, University of Melbourne, Barwon Health, Austin Health, CSIRO, Agriculture Victoria, and the Mornington Peninsula Shire Council, to undertake ambitious and innovative research to better understand how Buruli ulcer is transmitted in Victoria, and to determine effective ways to reduce and prevent human infections.
Findings from an earlier case-control study conducted in 2004 on the Bellarine Peninsula showed that getting bitten by mosquitoes, as well as gardening, were possible risk factors for getting Buruli ulcer, while wearing insect repellent protected against infection. Further research, including laboratory studies and mapping the distribution of Buruli ulcer lesions in case, strengthened the evidence that mosquitoes might play a significant role in transmission. Earlier research has also shown that Australian native possums can be victims of Buruli ulcer too.
Project updates 2021, and plans for 2022
Summary points
A combination of mosquito trapping and source reduction interventions were trialled on the Mornington Peninsula during early 2021.
The revised study design was supported by the study communities and local government.
Unfortunately, the trial did not show a reduction in mosquito numbers in the intervention zones compared to the control zones.
This result could have been due to a range of factors, including the presence of many intermittently occupied holiday homes that contributed to low intervention uptake, and which can act as 'hotspots' for mosquito breeding.
A new intervention for summer 2022 is being planned that will invite Mornington Peninsula residents to participate in mosquito reduction activities on their properties. This intervention will occur at a single property level compared to the street level intervention trialled the previous summer.
Other project activities are also underway, including possum scat (faecal) surveys, mosquito screening and testing, and possum surveillance studies.
Pilot trial (February-April 2021) – background
Last summer, the Beating Buruli project team designed a series of non-toxic mosquito reduction interventions to attempt to specifically and sustainably reduce local populations of Aedes (Ae.) notoscriptus, the container-breeding mosquito that is implicated in the transmission of Buruli ulcer (BU). The interventions did not include insecticide spraying, in response to community preferences raised in 2019. The aim of this pilot trial was to assess the effectiveness of this new approach in reducing mosquito numbers on the Mornington Peninsula.
Pilot trial – study design
Ten zones containing a total of approximately 700 households in Rye and Blairgowrie were included in the pilot study during summer (February – April) 2021.
Half the zones were randomly allocated as intervention zones, and the other half were control zones in which no interventions took place.
In the intervention zones, mosquito reduction activities included the use of non-toxic sticky mosquito traps (Gravitraps), mosquito insect growth regulators, and community education and engagement to help residents identify, empty and/or remove water-filled containers on their properties that act as breeding habitats for container-breeding mosquitoes such as Ae. notoscriptus.
Mosquito population numbers were monitored via Ovitraps before, during and after the intervention period.
Key findings
During the intervention period, our Gravitraps had caught approximately 3,100 mosquitoes, and during the monitoring phases (before and after the intervention period) our Ovitraps had collected over 250,000 mosquito eggs (see Figure 1).
The mosquito data provided a lot of important and useful information about mosquito population dynamics, Mycobacterium (M.) ulcerans transmission and mosquito dispersal patterns. However, the data did not show a reduction in mosquito numbers in the intervention zones compared to the control zones after the trial.
This result is almost certainly partly due to the low community uptake of the intervention activities: only one quarter of households in the intervention areas participated. Based on similar studies that demonstrated a reduction in Aedes mosquito populations, we hoped that at least 80% of the households in the intervention areas would participate. However, there were many unoccupied households in the intervention areas that our study team did not receive permission to access. Some of these properties were observed from the street to contain multiple sources of standing water that could act as mosquito breeding habitats, and these 'hotspot' houses might have produced enough mosquitoes to affect the trial results.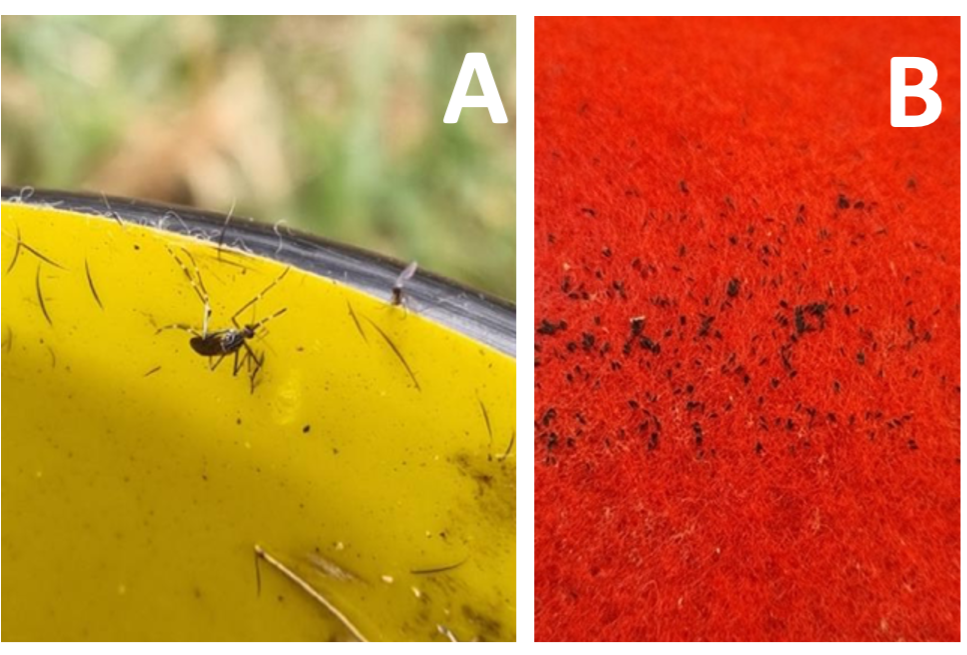 Figure 1: An Ae. notoscriptus mosquito caught on a sticky Gravitrap (A) and a close up of mosquito eggs on a piece of red felt taken from a monitoring trap (Ovitrap) (B).
The project team have re-assessed the study design based on the findings of the pilot trial, and have developed a modified and more localised ('single-property-scale') mosquito intervention to trial this summer (February–April2022).
Next steps for 2022
Mosquito control intervention for summer 2022: Based on the results of the pilot trial last summer, the study team now plans to perform a single property-scale, citizen science-based mosquito reduction intervention on the Mornington Peninsula during summer 2022. This will determine whether the modified intervention can significantly reduce mosquito species known to carry M. ulcerans (the bacteria that cause BU) within a BU-endemic area. It is anticipated that approximately 60 households will be recruited and asked to select one of three intervention options, some of which they may already be conducting, and the effectiveness of each option will be monitored during the study. Recruitment for this intervention will start in early 2022.
Further lab work: The mosquitoes that were collected during the pilot trial are still being processed to determine how many of them were carrying M. ulcerans. This information will also allow us to identify areas where mosquitoes carrying M. ulcerans are actively circulating so that future BU interventions could be focused on these potentially higher-risk areas.
Possum faecal (scat) surveys are also underway across urban areas of Melbourne, Greater Geelong and the Mornington and Bellarine Peninsulas. Field staff will be collecting possum faecal pellets from publicly accessible sites that will then undergo M. ulcerans screening in the lab to identify those areas in which the bacteria are being actively shed into the environment by infected possums.
Possum surveillance studies are also being planned for 2022 and 2023. These will involve monitoring free-ranging possums in areas of coastal Victoria where BU is known to occur. Revisiting the areas at regular intervals should allow long-term monitoring of the progression of BU disease in possums and its impact on animal welfare.
The Beating Buruli team would like to express our thanks for the community support we have received during our intervention activities to date. We look forward to continuing to work with communities on the Mornington Peninsula and other endemic areas, and we remain hopeful that together we will be able to stop the spread of Buruli ulcer in Victoria and more widely.
Contact the Beating Buruli Ulcer team
If you have any questions about this research, or are interested in participating in the Summer 2022 intervention, please feel free to email the project team at beating-buruli@unimelb.edu.au.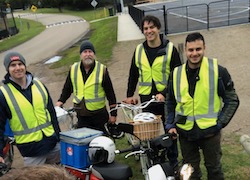 ---