27 May 2022
Yiaga Ngarnga Scholarship for Infection and Immunity awarded to Kristy Gardner
Kamilaroi woman Kristy Gardner is the recipient of Doherty Institute's first ever Indigenous health PhD scholarship - the Yiaga Ngarnga Scholarship for Infection and Immunity.
Named by the Wurundjeri Council, the Yiaga Ngarnga Scholarship aims to support graduate research in the Doherty Institute for Indigenous PhD candidates in Australia with interest and demonstrated excellence in the area of Immunology or Infectious Diseases.
University of Melbourne Professor Sharon Lewin, Director of the Doherty Institute, said this was an important milestone for the Institute and marks our commitment to research in Indigenous health.
"The Institute is enthusiastic to train the next generation of exceptional Indigenous researchers and actively strives to provide a culturally safe and supportive working environment."
After completing her Masters by Research with UNSW Associate Professor Joanne Bryant on "How Aboriginal young people in an urban setting access sexual health information, and the role technology can play", Kristy Gardner knew that she wanted to continue studying.
"I grew up in north-eastern NSW and am the first person in my family to go to Uni," the PhD graduate researcher explained.
"When I started Uni, doing a PhD was so far beyond what I thought I could achieve; I even had people telling me a PhD was out of my reach. So, I kind of dropped the idea and it's not until I finished my Masters that I knew I wanted to continue into research. Now, I have the chance to learn from and work with some very impressive people that can help shape my research career. Being stubborn really helps at times!"
Kristy wants to ensure that Aboriginal people have their voices and experiences heard through research.
"My research will be looking at how the sexual health workforce perceives Aboriginal young people as clients, and how Aboriginal young people perceive sexual health services, and the impact on service delivery in an urban area," she explained.
"My hope is that my work will start conversations and show what the priorities are in order to support the sexual wellbeing of Aboriginal young people," Kristy added.
University of Melbourne's Dr Simon Graham, National Health & Medical Research Council (NHMRC) and Senior Research Fellow at the Doherty Institute, is Kristy's primary PhD supervisor and is excited to accompany Kristy through her research.
"Kristy has three Masters degrees with the last being by research, so she has already designed interview schedules, conducted interviews, analysed the data, wrote a thesis and is currently publishing her Masters results in a peer-review journal. This positions her as a very strong PhD candidate and we have a great team and plan for the next few years," Dr Graham said.
"Kristy's research project fits within the Indigenous cross- cutting discipline at the Doherty Institute and focusses on sexually transmitted infections and health services, so it has the potential to have a positive impact in the real world by improving how sexual health services are delivered to young Aboriginal people," he added.
Dr Graham thinks this scholarship is a great opportunity for Kristy as well as for the Doherty Institute.
"Kristy is the first Indigenous PhD student to join the Institute and we hope it encourages others to join the Doherty Institute as staff or students," he said.
UNSW Professor Bryant is an external co-supervisor of Kristy's PhD at the Doherty Intitute.
This prestigious scholarship was made possible by a generous philanthropic donation from the Lionel Gell Foundation to the Doherty Institute, and with support from the Faculty of Medicine, Dentistry and Health Sciences at the University of Melbourne.
The Doherty Institute is proud to have worked with the Wurundjeri Council to name this prestigious scholarship, the Yiaga Ngarnga Scholarship. The translation is 'to seek meaning and understanding'.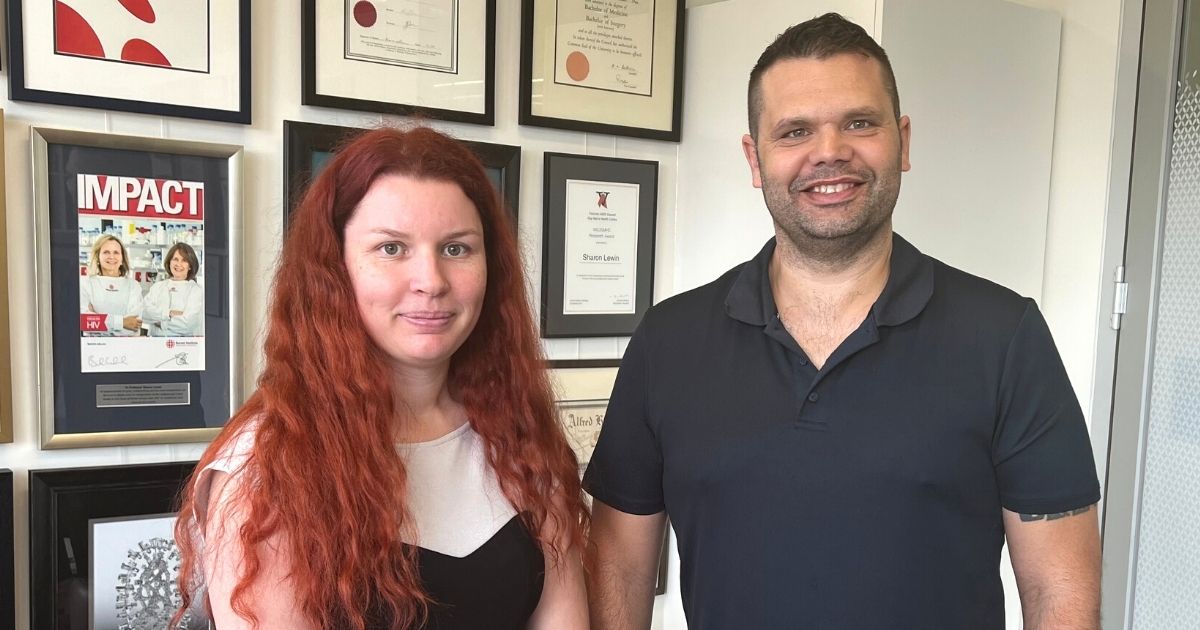 Image: PhD researcher Kristy Gardner (left) and Dr Simon Graham (right)
News Archive