03 Aug 2022
Professor Sharon Lewin appointed President of the International AIDS Society (IAS)
Internationally recognised for her expertise in HIV cure, HIV-hepatitis B virus (HBV) co-infection and SARS-CoV-2 infection, Professor Sharon Lewin, Director of the Peter Doherty Institute for Infection and Immunity (Doherty Institute), has been appointed as the new President of the International AIDS Society (IAS).
The IAS is the peak international organisation for HIV/AIDS professionals representing more than 15,000 members across the globe, including scientists, people living with HIV, activists, policy makers and others.
For the next two years, Professor Lewin will lead the IAS in its mission to convene, educate and advocate for a world in which HIV no longer presents a threat to public health and individual well-being.
As she takes the reins as IAS President, Professor Lewin acknowledged Professor Adeeba Kamarulzaman for leading the IAS through a historic era.
"As a woman in science, I look forward to the day when (having) two consecutive female presidents isn't remarkable – but today it is and I'm proud to be a part of this new era," she said.
Professor Lewin shared her vision and optimism with the audience at the closing ceremony of the 24th International AIDS Conference (AIDS 2022) in Montreal.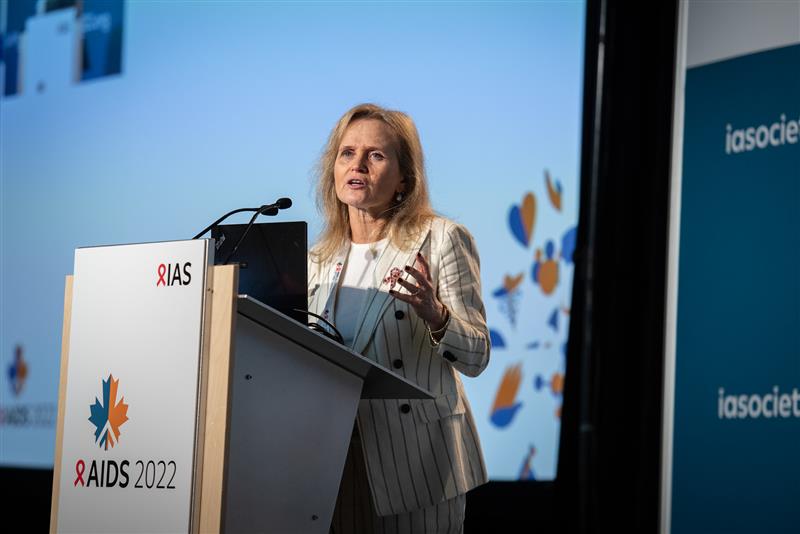 IAS President, Professor Lewin presents at the IAS Conference in Montreal. Image credit: IAS International AIDS Conference
"Our ambitious goals of a viable cure and vaccine for HIV remain distant on the horizon. Yet, they are closer than ever before. And with our recent experiences with COVID-19, accelerating vaccine and cure research feels not only feasible but inevitable," she said.
"AIDS 2022 has made it clear once again: progress happens when we come together and unleash the power of our movement. That is why the IAS exists. That is why we need to double down on our efforts to unite the voices of activists, policy makers and scientists."
"Together, harnessing the strength, passion and talent of this movement, we will end this epidemic once and for all," she concluded.
Read Professor Sharon Lewin's full speech via the IAS website.
News Archive