01 Aug 2022
Increasing whole-genome sequencing capacity to combat Covid in Fiji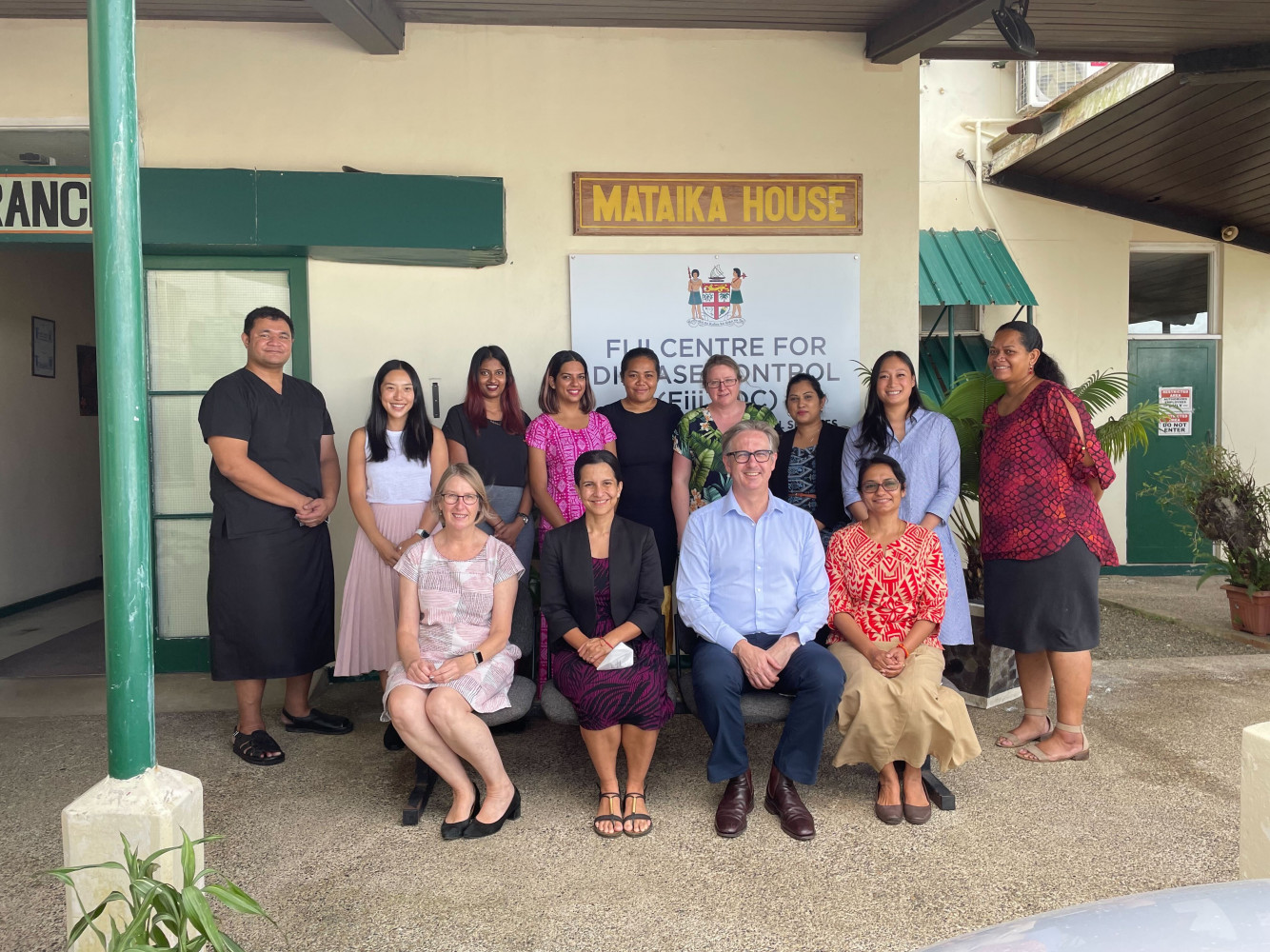 Caption: Fiji Centre for Disease Control and Microbiological Diagnostic Unit Public Health Laboratory International Genomics Program teams at the Centre for Disease Control in Suva in May 2022.
The utility of whole-genome sequencing (pathogen genomics) for public health is crucial to disease surveillance. This technology allows health systems to identify, track and trace disease outbreaks, and can be used to inform and tailor public health responses to intervene and reduce transmission of COVID-19.
"Genomic sequencing has been demonstrated to be critical across the Asia-Pacific region and internationally throughout the COVID-19 pandemic," said University of Melbourne Professor Ben Howden, Director of MDU PHL.
"When combined with epidemiological data, genomic sequencing can help identify outbreaks, support enhanced surveillance, detection of new and emerging pathogens and variants, including antimicrobial resistance – this has been demonstrated through the pandemic response."

Following an onsite visit to the FCDC molecular team in May, members of MDU PHL identified opportunities for increasing accessibility to whole-genome sequencing at a local level, including procurement of equipment, reagents and the development of a tailored training series.

Fiji Centre for Disease Control team and the Doherty Institute team discussing genomics implementation plans at Fiji CDC.
Working rapidly to ensure capacity could meet the demand of rising COVID-19 cases in Fiji, MDU PHL expedited the training schedule to late June. Members of the FCDC molecular team visited the Doherty Institute in Melbourne to participate in hands-on laboratory training.
"Upon completing the training, the team successfully sequenced and analysed the genome of SARS-CoV-2," said Dr Susan Ballard, Principal Scientist at MDU PHL who led the training design and implementation.
"The next step will be to set up the equipment in the dedicated whole genome sequencing laboratory that has been established at FCDC, and to do some follow up training in the lab to consolidate whole genome sequencing technology within FCDC."
"Our team will work closely with FCCFC to ensure they're supported through the transition. We're looking forward to providing revisional training onsite in Fiji later this year, in addition to a comprehensive review of their implementation activities."
News Archive