13 Sep 2017
Inaugural Indigenous Health Forum, August 2017
When the Doherty Institute opened in 2014, Wurundjeri elder Aunty Joy Murphy Wandin AM issued a challenge to its Patron and namesake, Laureate Professor Peter Doherty AC.
She asked him: 'What will this Institute do to improve the health of Aboriginal people?'
In August last year, with Aunty Joy's challenge in mind, the Institute held its inaugural Indigenous Health at the Doherty Institute Forum.
The Forum presented an opportunity for the Institute, its researchers, and Indigenous health leaders from across Australia to connect and work together to grow the capacity of the Institute to play a more meaningful, collaborative role in responding to infectious diseases.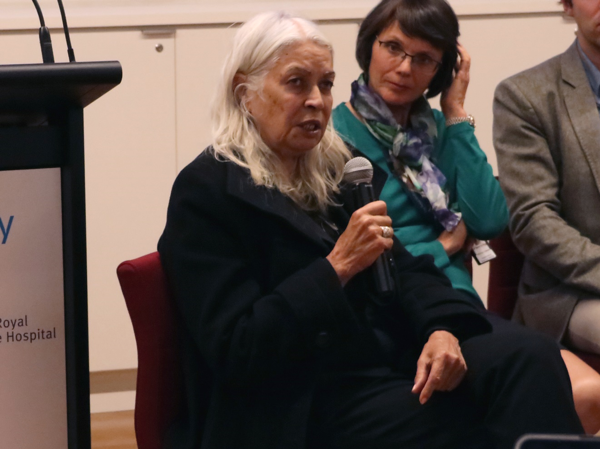 Professor Marcia Langton speaking during the panel discussion at the Indigenous Health at the Doherty Institute Forum
150 people attended the Forum, which included two series of presentations followed by a panel discussion. The first series covered Indigenous health research currently underway at the Institute, and the second, presented by leaders in Indigenous health, was an opportunity for the Institute to hear about developing successful networks and partnerships.
In her opening speech, Professor Sharon Lewin announced the Institute's first PhD scholarship. The scholarship will be awarded to an Aboriginal or Torres Strait Islander PhD candidate wishing to pursue study related to infection and immunity, and includes mentoring and leadership development support from the Melbourne Poche Centre for Indigenous Development.
Presentations at the Forum were delivered by Doherty Institute researchers: Professors Katherine Kedzierska, Damian Purcell, Jodie McVernon, Beverley Biggs, and Associate Professor Steven Tong; Pro Vice-Chancellor (Indigenous) at the University of Melbourne, Professor Shaun Ewen; Pro Vice-Chancellor, Indigenous Leadership at Charles Darwin University, Professor Adrian Miller; and Chief Health Officer at Miwatj Health, Dr Lucas de Toca.
The panel discussion featured Professor Miller and Dr de Toca, along with Associate Provost at the University of Melbourne, Professor Marcia Langton; Director of Public Health and Research at VACCHO, Louise Lyons; Knowledge Translation Manager at the Lowitja Institute, Leila Smith; and Doherty Institute researcher, Professor Beverley Biggs.
A report on the Forum, as well as a set of guiding principles for future work in Indigenous health, were developed by the Institute and are available to view here.
Authors: Katherine Kedzierska (DMI), Steven Tong (VIDS), Nathan Fioritti (Doherty Directorate)
News Archive