11 Dec 2017
Implementing Best Practices in Indigenous Health Research
In September 2014, Aunty Joy-Murphy AM, respected Wurundjeri Elder graciously welcomed the Doherty Institute to the land where her people have lived since time immemorial. Aunty Joy gave the Institute her blessing, but issued Laureate Professor Peter Doherty with a challenge, "What will your Institute do to improve the health of Aboriginal and Torres Strait Islander Australians?"
We took Aunty Joy's challenge to heart. Today, undertaking research that translates into better health outcomes for Aboriginal Australians is a strategic priority for the Peter Doherty Institute for Infection and Immunity. Indigenous health was selected as one of 8 cross-cutting disciplines for which the Institute aims to enhance collaborative research.
The Doherty Institute held an inaugural Indigenous Health at the Doherty Institute Forum on 30 August 2017. The Forum sought to deepen our relationships with Aboriginal leaders in health and to explore how we can work together. This forum shaped the following best practice guidelines that the Institute will use to shape and grow our practice:
We will always be respectful of the history and context of the communities with whom we work.
We will not only build, but strive to maintain relationships with communities and leaders in health. As it is ineffective for one researcher to enter a community alone and start from scratch, we will work with existing relationships that the University of Melbourne already has such as East Arnhem Land, Cape York, Goulburn Valley. We will continue to build on existing links with northern Australia through the Menzies School of Health Research and Miwatj Health.
We will undertake research 'with' rather than 'on' communities, seeking to conduct community-driven research that is engaged with investigator skills and knowledge.
We commit to building the capacity of communities with whom we work.
We will strive to ensure our research translates into clear and immediate benefits not just a contribution to the 'body of knowledge'. We will listen to the health needs of communities to ensure we're undertaking research that counts.
The results from this Forum were presented as a poster on November 14th , 2017 at the 6th Annual NHMRC Symposium on Research Translation. You can find more information on the Forum in the summary report.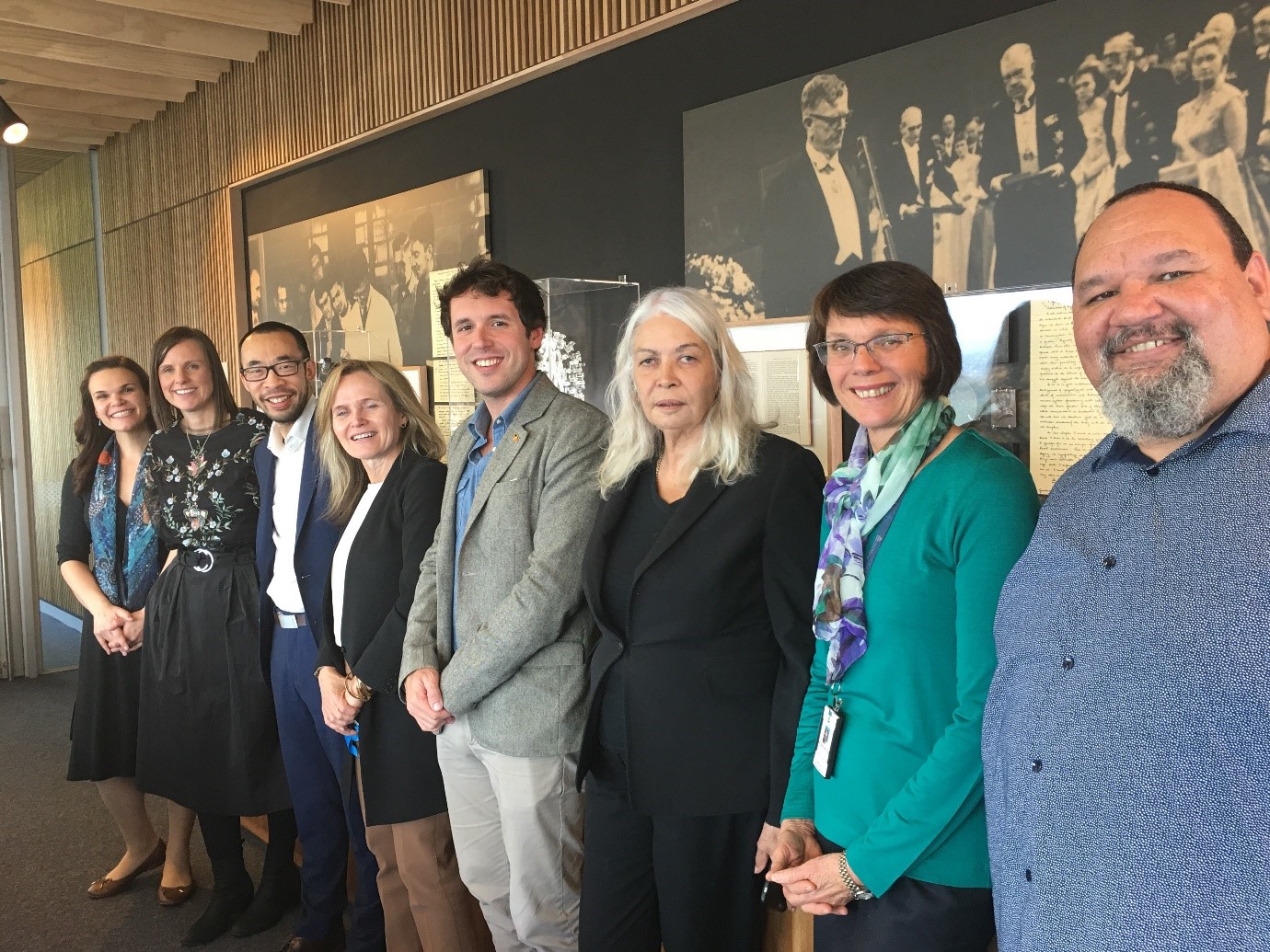 The inaugural Indigenous Health at the Doherty Institute Forum 2017.
From the left:
Dr Leila Smith, Belinda Collins, Ass Prof Steven Tong, Prof Sharon Lewin, Dr Luca de Toca, Prof Marcia Langton, Prof Beverley Biggs, Prof Adrian Miller
In line with this, the Doherty Institute is glad to announce that it awarded both 2017 collaborative research grants to the following Indigenous Health projects:
Diagnostic testing to estimate the prevalence of enteric pathogens and levels of inflammatory markers in indigenous children residing in a remote community in Northern Australia. Led by Siddhartha Mahanty.
The epidemiology of influenza in the Northern Territory. Led by Steven Tong.
Part of the Institute's commitment to Indigenous health is the development of the next generation of Indigenous leaders in Infection and Immunity. The Institute has launched a new PhD scholarship for an Aboriginal or Torres Strait Islander candidate wishing to pursue study related to infection and immunity. The candidate will receive mentoring and leadership development support from the Melbourne Poche Centre for Indigenous Development at the University of Melbourne, they will be connected to and mentored by some of the most respected leaders in Indigenous health with supportive career paths available.
More about Indigenous Health at the Doherty Institute and Key Contacts here.
News Archive