30 Jul 2020
Identifying and combating the impacts of COVID-19 on malaria
Written by
University of Melbourne Professor Stephen Rogerson, Doherty Institute Head of the Malaria Laboratory, Australian Centre of Research Excellence in Malaria Elimination Lead Investigator
Professor James Beeson, Burnet Institute Deputy Director, Head of Malaria Immunity and Vaccines Laboratory, Australia Centre of Research Excellence in Malaria Elimination Investigator
The COVID-19 pandemic has resulted in millions of infections, hundreds of thousands of deaths, and major societal disruption due to lockdowns and other restrictions introduced to limit disease spread.
Relatively little attention has been paid to understanding how the pandemic has affected other diseases. One example is malaria, which is a major cause of death and disease and predominantly affects people in less well-resourced settings. In 2018, there were an estimated 228 million cases of malaria, and over 400,000 deaths. Most of these occurred in young children under five years old.
Over the past 20 years, major gains have been made in reducing the global burden of malaria, with 11 countries achieving malaria elimination.
However, the COVID-19 pandemic threatens achievements that have been made in controlling malaria – we may see a major increase in incidence of the disease and it's crucial we have continued investment in malaria control.
The campaigns that have driven these gains include improving access to early diagnosis and more effective antimalarial treatments, and expanding the distribution of insecticide-treated bed nets, indoor spraying of residual insecticides and other strategies including targeted interventions to protect the high risk groups – pregnant women and young children. These programs are all threatened in one or more ways by COVID-19.
To date, this multipronged approach has been enabled by a greater political, financial and global commitment to malaria elimination, encouraged by ambitious targets, such as reducing malaria globally by >90% by 2030 (compared to 2015), eliminating malaria from the Asia-Pacific by 2030 and Africa being largely malaria-free by 2050.
But malaria funding is below what is required to achieve global goals, and many countries face competing health priorities in the context of severely constrained resources. Similar challenges are associated with tuberculosis and HIV (human immunodeficiency virus) infection.
In this environment, diverting human and financial resources to deal with the emergence and spread of COVID-19 presents a huge threat to malaria control that could reverse recent gains in many malaria endemic countries. Withdrawing successful interventions often results in rapid malaria resurgence, primarily threatening vulnerable young children and pregnant women.
There are a number of direct effects of COVID-19 on malaria programs. For prevention of malaria, insecticide treated nets need regular renewal, but distribution campaigns have been delayed or cancelled.
For detection and treatment of malaria, individuals may stop attending health facilities, out of fear of exposure to COVID-19, or because they cannot afford transport, and healthcare workers require additional resources to protect themselves from COVID-19.
Supplies of diagnostics and drugs are being interrupted, which is compounded by production of substandard and falsified medicines and diagnostics.
Together, these may impact efforts to control the spread of drug resistance.
Modelling by the Malaria Atlas Project found that these disruptions could double the number of young African children dying of malaria in the coming year.
All sectors of society, including governments, donors, private sector and civil society organisations, have crucial roles to play to prevent malaria resurgence. Sparse resources must be allocated efficiently to ensure integrated health care systems that can sustain control activities against COVID-19, as well as malaria and other priority infectious diseases.
In malaria endemic countries it is vital that measures are taken both to maintain malaria control activities, and to protect health workers. The global community cannot afford to
cut aid to established programs that have contributed significantly to the major progress made against malaria and other diseases; we must continue to look outwards, rather than turning inwards at the expense of the world's most vulnerable.
An estimated US$90-$120 billion investment, to eradicate malaria from the globe, would unlock over US$2 trillion in economic benefits. If we reduce our focus on malaria, it will resurge, bringing a terrible death toll and even greater economic hardship.
In our region, researchers from the University of Melbourne, Doherty Institute, Burnet Institute, Menzies School of Health Research, Papua New Guinea Institute of Medical Research, Universitas Gadjah Mada, Yogyakarta, Indonesia and Queen Elizabeth Hospital, Kota Kinabalu, Sabah, Malaysia and other colleagues have all highlighted the importance of malaria and the potential impact of COVID-19.
As we struggle with COVID-19 we call on the leaders of countries across the world to recommit to malaria elimination as an achievable and enduring public good. The broader goal of malaria eradication remains highly attractive.
Click here to read the full Opinion Article in BMC Medicine.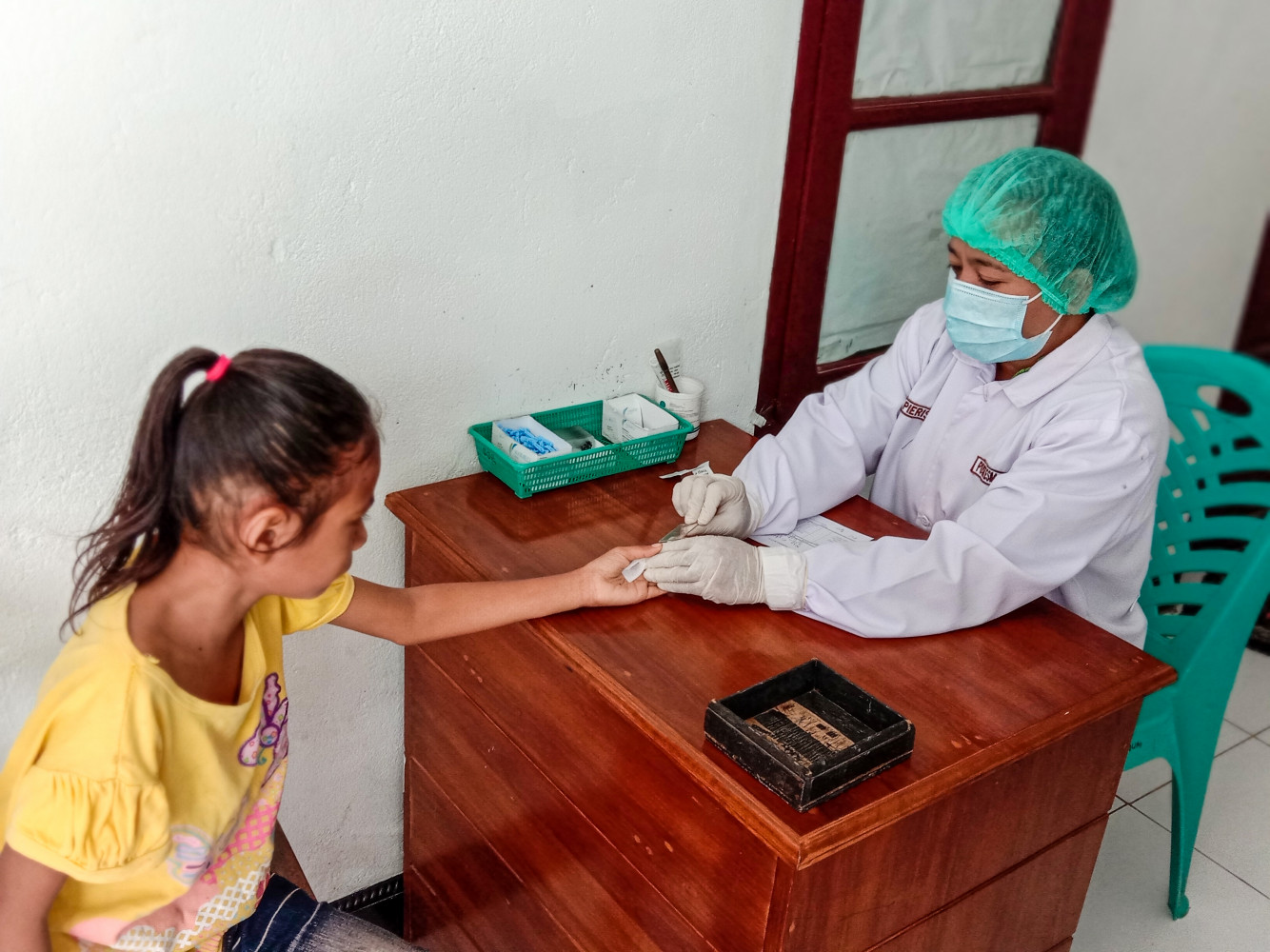 Image captured by Dr Jeanne Rini Poespoprodjo
News Archive