28 Jun 2018
From the Director's Desk: Training HIV advocates in resource-limited settings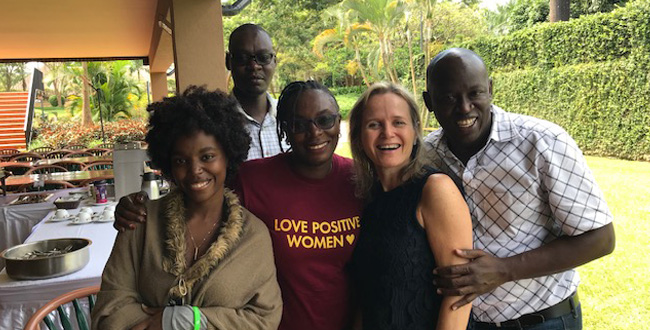 From left to Right Lillian (Tanzania), Maureen (Kenya), Sharon and Godfrey (Kenya) attending the Advocates Academy for HIV Cure Research. The two-day retreat was held just out of Kampala and was funded by the International AIDS Society in partnership with AVAC, a New York-based organisation dedicated to Global Advocacy for HIV Prevention. The IAS and AVAC are committed to building expertise and a deeper understanding of HIV cure in communities affected by HIV.
The Advocacy-for-Cure Academy awarded 29 fellowships to talented advocates working in the HIV field in resource-limited settings and who were interested in HIV cure-related advocacy to attend a three-day training and development course.
The participants were selected from an extraordinary pool of over 900 applications! They were largely from all over Africa, with some representation from Indonesia and Argentina.
Together with Professor Steve Deeks from University California San Francisco, scientific faculty from across South Africa and Uganda and community members, we developed an interactive course which provided the tools and resources for fellows to develop their research literacy in HIV cure and to improve and reinforce their advocacy and engagement skills.

It was an inspiring three days hearing from people living with HIV in the field, their understanding of cure research, some of the misconceptions of what an HIV cure might look like and how to make the science understandable to communities and local media.

The workshop strongly reinforced to me how important community engagement is in every aspect of research.

We must listen to and work with affected communities. This principal has been at the core of HIV research for the last 35 years and remains highly relevant to HIV cure and all biomedical research.
News Archive