29 Nov 2019
Every journey counts: World AIDS Day Launch
Every journey counts. The theme of World AIDS Day 2019 was exemplified at the official Victorian World AIDS Day Launch, held at the Doherty Institute today.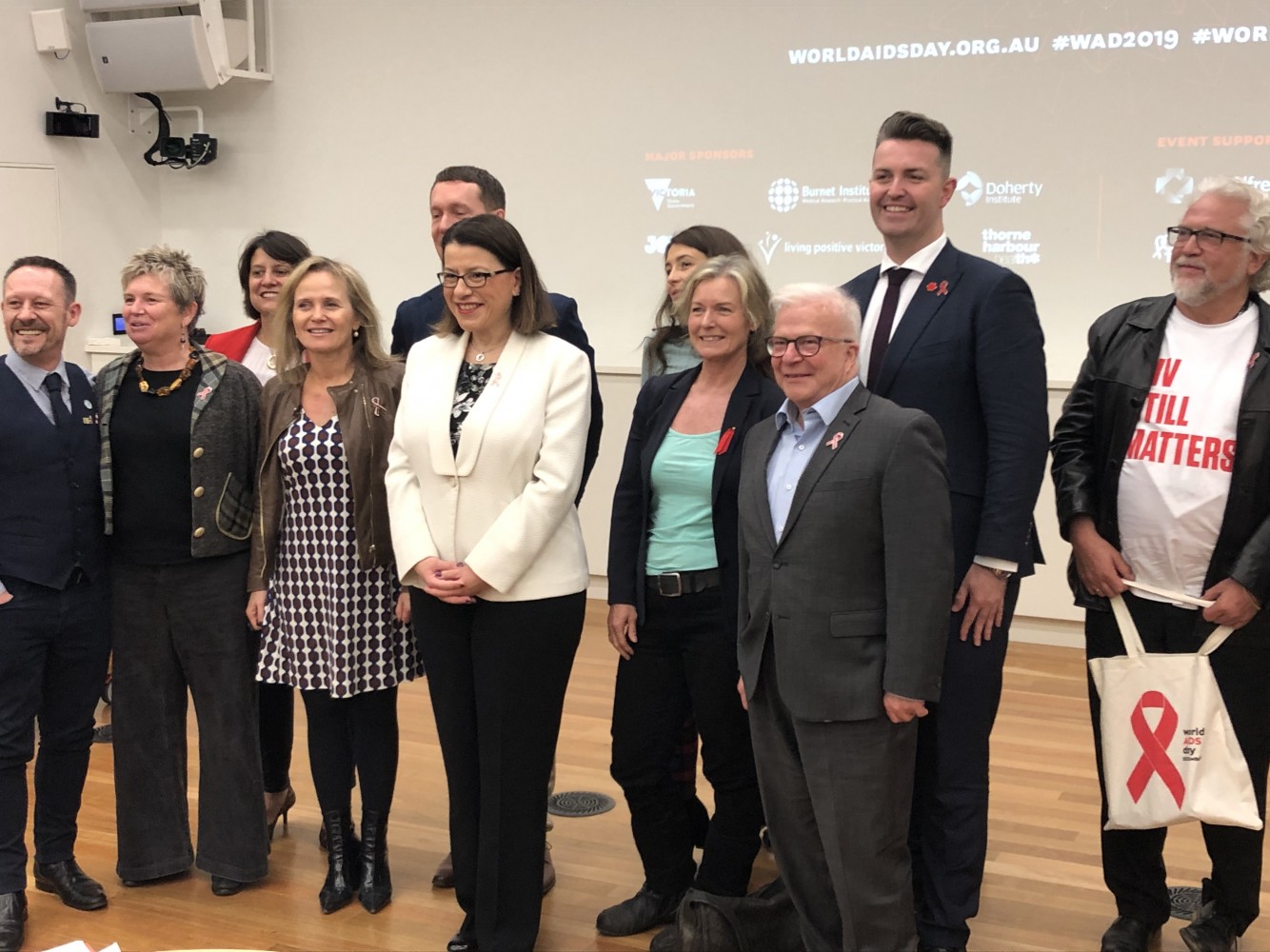 Adam Ehm, Positive Living Victoria President kicked off proceedings with his own personal story, and welcoming his family who were present to support him from Queensland.
"World AIDS Day is a time to reflect and consider the diversity that exists in the HIV community and the issues that are most pressing for those living with HIV today," Mr Ehm said.
"How can you challenge stigmatising behaviour? Every action you take can have a meaningful difference to the community."
Victorian Minister for Health the Hon Jenny Mikakos MP followed outlining the successes in HIV treatment and prevention Victoria has enjoyed in recent years, but also acknowledged there was more to be done to support overseas born Victorians living with HIV.
Minister Mikakos also announced the latest recipients of the Melbourne HIV Cure Consortium (MHCC) small grants, an initiative established in 2017.
MHCC is a collaborative research effort comprising experts in virology, immunology, drug development, neuroscience, and social research collaborating to accelerate efforts to find a cure for HIV.
"The Melbourne HIV Cure Consortium work is absolutely critical to ensure we can one day cure HIV and AIDS," Minister Mikakos said.
2019 grant winners:
Dr Michael Roche, Senior Postdoctoral Scientist, Centre for Chronic Infectious and Inflammatory Diseases, RMIT University
Defining a viral reservoir in the central nervous system of HIV-infected individuals on ART
Dr Jori Symons, Postdoctoral Fellow, Doherty Institute
Triplex forming oligonucleotides: Block and Lock as a strategy for HIV cure
Dr Susan Chong, Research Fellow, La Trobe University
Building HIV positive women's meaningful engagement with HIV clinical and cure research
The keynote speaker, Professor Sharon Lewin, Doherty Institute Director talked about HIV stigma and how it remains the biggest shared challenge globally, and still remains in Australia.
"This year's World AIDS Day theme of 'Every Journey Counts' is a reminder of the vastly different experiences of living with HIV not just across the globe but within Australia and even in our own wonderful state of Victoria," Professor Lewin said.
"We need to do more to reach and engage people at risk in heterosexuals, Aboriginal and Torres Strait Islander people and gay and bisexual men born overseas. These groups and we need targeted and innovative prevention programs developed in conjunction with these communities."
Positive Speaker Stefan Joksic shared his moving story of the experience of learning a former partner was living with HIV and the impact that had on his own journey with HIV.
"For sharing comes strength and understanding, for everyone involved. I find a deep joy in helping others find the words to help them sing," Mr Joksic said.
Positive Women Victoria Chair, Heather Ellis shared the story of Heather Magwagwa who was unable to attend the event.
"I have managed to lead an almost boring life, I went to university, I got a job, met a partner and had two beautiful children," Ms Ellis said on behalf of Ms Magwagwa.
"I'm privileged to learn other stories of women living with HIV, I also know the personal risk of disclosing status is too high."
News Archive