20 Jun 2018
Dr Laura Mackay wins Michelson Prize for Human Immunology and Vaccine Research
University of Melbourne Dr Laura Mackay, a laboratory head and senior lecturer at The Peter Doherty Institute for Infection and Immunity (Doherty Institute), has been awarded an inaugural Michelson Prize for Human Immunology and Vaccine Research for her innovative work on tissue resident memory T cells.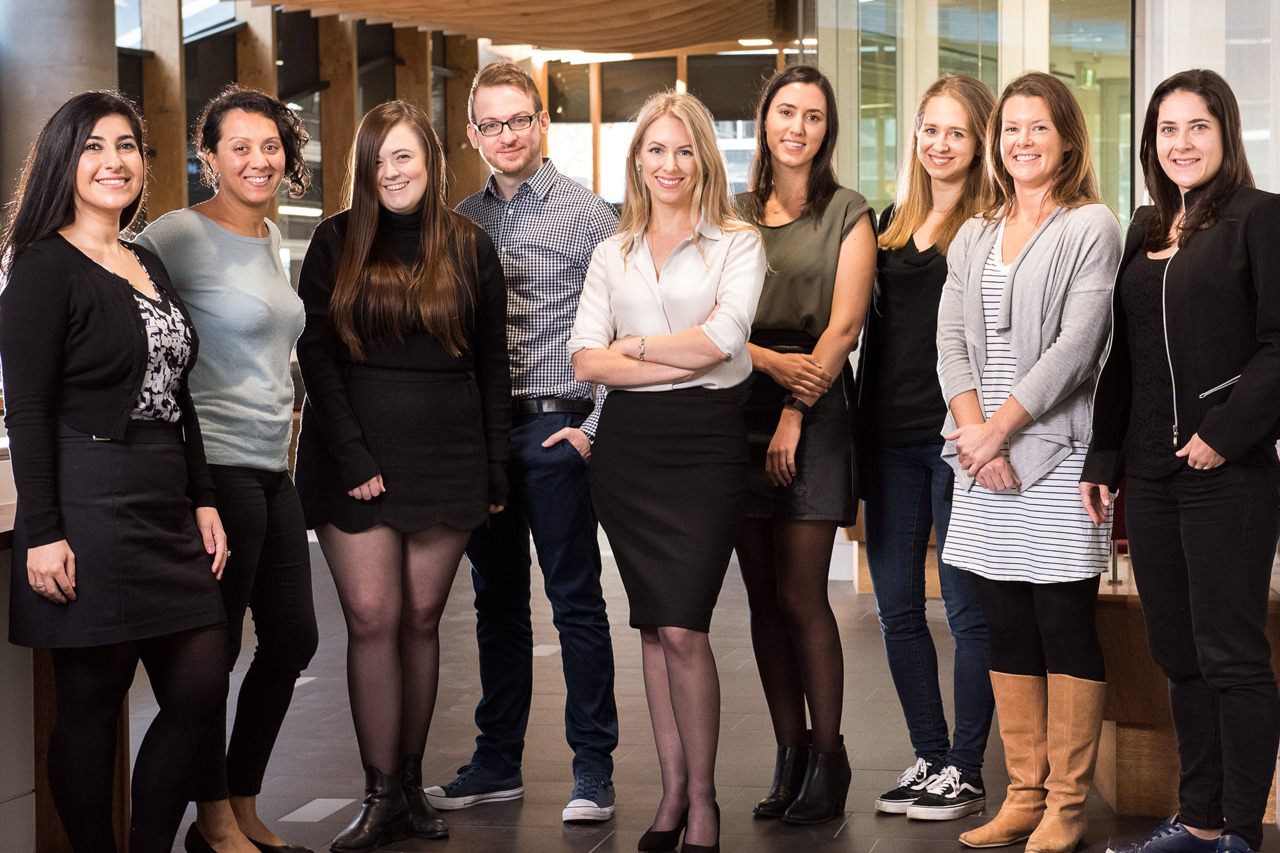 Dr Laura Mackay (centre) with her laboratory team.
The prize was founded to support young investigators who are applying innovative research concepts and disruptive technologies to their work to significantly advance the development of future vaccines and therapies.
Today, the Michelson Medical Research Foundations and the Human Vaccines Project announced three cutting edge researchers, including Dr Mackay, under the age of 35 that were selected as the award's first recipients from a global competition that included over one hundred applications spanning 12 countries.
Dr Mackay's research focuses on tissue resident memory T-cells, a novel subset of T cells, which play an important role in combatting viral infections and cancer.
She said she was honoured to receive this inaugural prize, which comes with US$150,000, to fund a project that will examine immune responses by tissue resident T cells to harness their protective functions to improve vaccines and immunotherapies.
"Tissue resident memory T cells are potent mediators of anti-tumour immunity. Something we want to look at is how these tissue resident memory T cells can interface with existing immunotherapies for cancer," Dr Mackay said.
"What we hope for is the generation of new immunotherapies that will incorporate tissue resident memory T cells, harness them to give us better protective responses across a wide variety of infections and also enhance tumour immunity."
University of Melbourne Professor Frank Carbone recruited Dr Mackay for her post-doctoral studies and has been her mentor ever since.
"Laura doesn't let any opportunity slip; she basically conquers anything that comes in her path and then she just wants more. This is just fantastic for her future," Professor Carbone said.
Dr Mackay will join the other recipients, Dr Patricia Illing from Monash University, formerly of Doherty Institute Council Member Professor Jim McCluskey's group at the University of Melbourne, and Dr Ansuman Satpathy (Stanford University School of Medicine), at a symposium on the Future of Vaccine Development at the University of Southern California on 27 June, 2019. They will also be recognised at an awards gala that evening.
Michelson Medical Research Foundation founder, Dr Gary Michelson, said he is thrilled to recognise the young scientists from Australia and the United States as the first recipients of the Michelson Prizes for Human Immunology and Vaccine Research.
"The high calibre of their scientific pursuits, their disruptive ideas and their passion for innovation and problem solving gives me great hope for the future of science," Dr Michelson said.
President and CEO of the Human Vaccines Project, Dr Wayne Koff said it was inspiring to see the creative thinking and innovative approaches the winners are taking to tackle today's scientific challenges.
"We are proud to be able to support their research, which aligns with the Project's mission of deepening our understanding of the immune system. We're looking forward to the progress they will make over the next year."
News Archive