25 May 2020
Meet the scientist – Q&A with Dr Julie McAuley
Q&A with the University of Melbourne's Dr Julie McAuley, Senior Research Officer
Q: What is your role at the Doherty Institute?
I am a Senior Research Officer within the Purcell Laboratory. I also help to manage one of the High Containment (PC3) Laboratories that has recently become dedicated to COVID-19 research.
Q: You usually investigate new influenza infections but recently pivoted to working on COVID-19. What has that experience been like and what have been the challenges?
My normal research focused on newly emerging influenza viruses and how some of the proteins they produce when they infect a cell can trigger severe disease in humans. My work aimed to aid in the global surveillance and pandemic preparedness, should a novel outbreak of influenza occur. Little did I know that this work would put me in the right place at the right time and with the right qualifications when the COVID-19 outbreak appeared.When the team at the Victorian Infectious Diseases Reference Laboratory (VIDRL) successfully cultured SARS-CoV-2, the virus that causes COVID-19, from a patient sample – the first time this had been achieved outside of China – I quickly found myself optimising culture conditions to generate enough virus stock to help drive research. The work I am currently doing in the fight against COVID-19 has rapidly expanded from there.
At any given moment, the experience itself has been surreal, exciting and scary. When you are working with laboratory cultures of SARS-CoV-2, knowing the global devastation it has already caused, there is no room for error. In the beginning, I was very paranoid - if I was to wear my PPE (personal protective equipment) incorrectly, accidentally spill any of my cultures, or not inactivate samples in the right way, not only would I have exposed myself to infection, but my colleagues, friends and loved ones too. I've gained confidence as time has gone on, which has meant I've become comfortable with my PPE and the protocols that I must implement in order to reduce risk of any mistakes I could possibly make.
Last week, I found myself in the unique position of handling two different pandemic viruses – SARS-CoV-2 and the 2009 influenza A virus – in order to create stocks for some very important research projects that are coming up. I had to take a moment to reflect, as I had realised the implications of the things that I am currently doing in the lab could in some way effect the world. I just have to make sure that it is in a good way and not because I've done something wrong.
Q: What projects are you currently working on and how does it fit in with the overall pandemic?
In the two months since COVID-19 was declared a pandemic, I have been working to help those on the frontline attempting to develop diagnostics, antivirals and vaccines. My role has been to test and optimise methods in order to provide the right kind of inactivated samples of the SARS-CoV-2 virus to the experts who need them. This has included providing positive control samples so that diagnostic tests can be validated; protein for testing of newly developed antibodies; infected cells for confocal microscopy and flow cytometry; and inactivated and purified virus for vaccine testing. I've also even been lucky enough to be able to view the virus I've cultured using the Doherty's electron microscopy suite! Each and every project I am involved with has a team of brilliant scientists working towards the common goal of trying to end this pandemic as quickly as possible.
In addition to providing samples to others to help drive the SARS-CoV-2 research forward, the foremost important aspect of my own research has been to investigate ways to 'kill' the virus. So far, I have tested just about anything imaginable and some things that I never would have thought could ever be considered as a viricidal compound. Some of what I've analysed has included nanotechnology embedded in leather materials used for armrests on public transport, antiseptics (traditional and novel), detergents, alcohols and more. I will soon embark upon looking at the antiviral effects of metals in fabric and whether chickens vaccinated against a chicken version of coronavirus may have a cross-reactive antibody response that could be beneficial treatment regimes in humans.
I'm really looking forward to that moment when something I've contributed to can be directly used to help stop this pandemic in its tracks.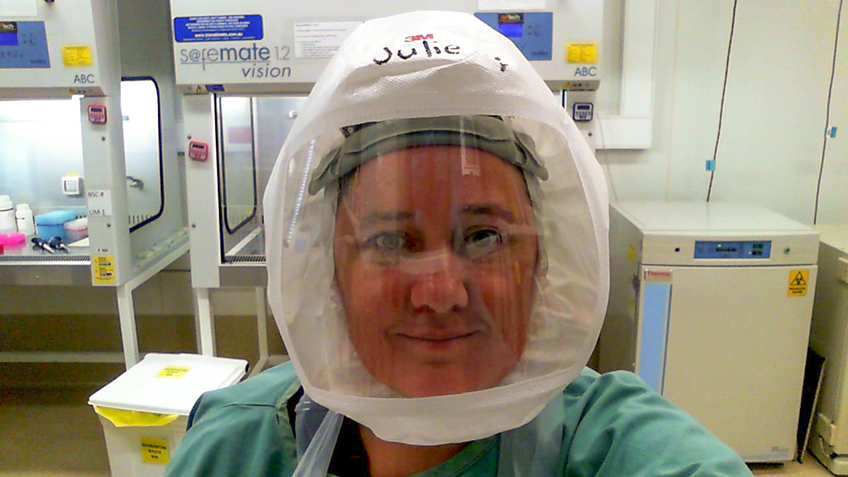 Image: Dr Julie McAuley in the PC3 Laboratory.
Q: How do you go about discovering new information about a novel infection and the disease it may cause?
I have been so busy in the laboratory that I've not been able to keep up with my normal way of going about this, which is to read the published literature and consider my own research ideas. Instead, I am relying heavily on attending meetings and seminars held within the Doherty Institute. I have learned from the clinicians on the frontline as to what unique symptoms COVID-19 patients present with and experience; from epidemiologists about the ease of spread of the virus; from immunologists about the patient immune responses to infection; and from virologists about how different this virus is to its predecessors. I had to buy a little speaker for the computer in the PC3 lab so that I could hear the Zoom presentations over the hum of all the PPE I wear and the biosafety cabinets that I perform the research in. There are quite a few ideas that I have gained from all this that I hope to be able to gain funding for and research myself so that we can better understand the way SARS-CoV-2 infects and causes severe illness in people.
Q: What initially attracted you to the field of science?
Science was my worst subject in high school. I didn't understand it, but I wanted to. I have always been interested in trying to understand the who, what, when, where and why things tick. So, I started with a dual degree in applied science (Biochemistry/Chemistry, Honours) from Swinburne University, then followed up with a PhD in mucosal immunology at the University of Queensland. I followed this with an international Postdoctoral Fellowship at St Jude Children's Research Hospital (USA) that heavily focussed on how influenza infections primed hosts for secondary bacterial pneumonia. When I returned to Australia, during the 2009 influenza pandemic, I was able to establish my own niche research program investigating the intricacies of both host and virus contribution to influenza disease severity. I don't think I ever intentionally set out to have anyone particular career focus in science. If only my younger, high school student version of myself could see what I've become, I think she'd be shocked and maybe a little bit proud!
Q: When you're not working in the laboratory, what are you getting up to in isolation?
Since joining the frontlines in the fight against SARS-CoV-2 I've been working seven days a week, so I can't really say that I've truly experienced the whole isolation ordeal. I don't mind though. So many of my brilliant colleagues and friends have been forced to stay at home, halting the progress of their own important medical research. Quite a few of those stuck at home have had epiphanies with novel ways they can help and join the frontlines against COVID-19. So, to help them get back to work, I have tried to co-ordinate my work to include generating samples for what they need to get these important experiments done.
Although, I did manage to take a day off last week. After cleaning my house, I embarked upon my newest jigsaw puzzle with a little help from my fur babies, Bonnie and Clyde (pictured below). As my father had a heart operation not too long ago, my parents and I have been practising our physical distancing from the very beginning. When I'm home, I "visit" them often and we've had a lot of fun testing out all the various social media video conferencing apps.
Image (below): Dr McAuley's pets, Bonnie and Clyde.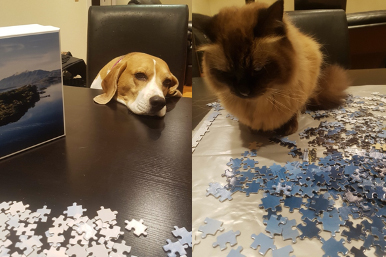 News Archive