25 Jun 2020
Meet the scientist – Q&A with Dr Jennifer Juno
Q: What is your role at the Doherty Institute?
I'm a senior post-doctoral fellow in Stephen Kent's lab. I currently co-supervise two PhD students in addition to my research, which focuses on T cell responses to infectious diseases.
Q: What initially attracted you to the field of science and, specifically, infectious diseases?
I was lucky enough to start doing research in my second year of undergrad studies back in Canada, and absolutely loved it. I haven't really stopped doing research since then, although my work in undergrad focused on fruit fly genetics. The work was really interesting, but I ultimately wanted to work in something more human-focused. Infectious disease research is so important to improving human health, and it's really gratifying to be able to work in that space.
Q: You usually investigate the role of T cell responses during infection, such as HIV and influenza, but recently pivoted to working on COVID-19. What has this experience been like and what have been the challenges?
It's been a whirlwind! The pace of research around COVID-19 has been absolutely incredible. My previous work in influenza really provided the basis for the studies we've been doing with SARS-CoV-2 – we're asking similar questions about how T cell responses to infection or vaccination modulate the antibody response, and how we can improve the quality of vaccine-induced antibodies. We have a great team within the Kent lab who have all been working non-stop to produce new reagents, recruit participants who have recovered from COVID-19, and then profile the B and T cell responses together. It's been really great to see groups within the Doherty coming together to try to answer these questions. There are definitely times where we had to be a bit creative to organise all the work while still social distancing, but everyone's done a great job.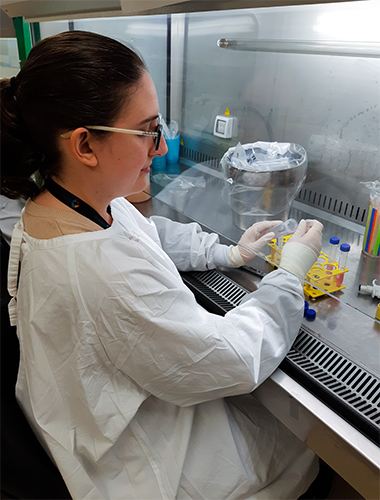 Dr Juno working in the Kent lab.
Q: What projects are you currently working on and how does it fit in with the overall pandemic?
My main focus now is to follow up on some observations from our first study, and to try to understand why specific T cell responses are associated with higher levels of neutralising antibodies after infection. If we can understand what defines a "good" response versus a "bad" response, then we can use that information to make more effective vaccines. I'm interested not only in the immune response to SARS-CoV-2, but also how that compares to immunity to the circulating human coronaviruses that cause the common cold. There are still a number of things we don't know yet, including how long immune responses to SARS-CoV-2 will last following infection. Hopefully we'll be able to address that in the coming months.
Q: Your T cell research has spanned HIV, influenza, tuberculosis and now COVID-19 – how does this work and why is our understanding of T cells across infectious diseases important?
One common feature of all those pathogens – HIV, influenza, Mycobacterium tuberculosis – is the challenge they present to developing effective, long-lasting vaccines. In situations where our traditional vaccine development pathways haven't worked, we need to develop new approaches. I'm really interested in understanding how we can better harness T cells to support vaccine responses. In some cases, that might involve unconventional T cell populations, which have been a focus of my work since my PhD. In the case of influenza or COVID-19, that might involve manipulating the focus of the follicular helper T cell (or Tfh cell) response. Tfh cells can be found in the lymph node and are critical for helping B cells produce antibodies, so we hope that by making good Tfh responses, we can improve antibody responses to vaccines as well. Regardless of the pathogen, understanding the interplay between T cell populations and B cell/antibody responses will be key to developing more effective vaccines.
Q: What message are you passionate about promoting in science?
I think right now it's important to listen to the stories that are being shared by women in science, particularly women of colour. Conversations such as #blackintheivory are highlighting the huge amount of work that we still need to do to address inequity in our field. I also think it's really important to talk to find the balance in science communication where you can make your work accessible to others but at the same time avoid things being over-interpreted or over-hyped by the media.
Q: If you could eradicate any disease or bug what would it be and why?
That's a very unfair question! Nonetheless, if I was picking an infectious disease, I would have to say tuberculosis. It's currently the number one cause of death by a single infectious disease worldwide, and drug-resistant strains are becoming more prevalent. We need a more effective vaccine, and preferably, less challenging treatment options.
News Archive