02 Aug 2019
Dr Christoph Coch visits the Doherty Institute to further develop collaboration efforts
Last month, Dr Christoph Coch, Head of the Clinical Trial Unit at the University of Bonn in Germany, visited the Doherty Institute to investigate the esatablishment of a clinical trial collaboration with the University of Melbourne. We spoke with him about what the purpose of his visit was, and what he had achieved whilst he was here.
What was the purpose of your visit to the Doherty Institute?
The purpose of my visit was to make the first steps to establish a clinical trial platform that supports collaborative clinical trials between the University of Melbourne and the University of Bonn in Germany. The focus is on non-commercial clinical trials that are initiated by academic investigators.
There is already a very successful research collaboration between our two universities thanks to a basic science program which was established a few years ago.
As head of the clinical trial unit at Bonn University, I spoke with Doherty Institute Director Professor Sharon Lewin, and University of Melbourne Associate Professor Sammy Bedoui, a Laboratory Head at the Doherty Institute and Program Director of the Bonn and Melbourne Research and Graduate School, about expanding this existing collaboration to clinical research and clinical trials. This will hopefully help to bring the research results obtained in Melbourne and Bonn to patients faster.
We are also open to clinical trial ideas beyond collaborative basic research, that could benefit from a cooperation, e.g. to speed up recruitment, to compare patient populations or to combine expertise. The idea is to have a trial platform open to all indications.
The establishment of a clinical trial collaboration between these organisations, could then be expanded to further Australian or European sites, so that a clinical trial can be brought to both continents. As our health systems, laws and some aspects of our patient care are different, a trial cannot easily be started at both sites. There first needs to be an understanding of each other's conditions and processes before a trial can be set up.
To make the first steps, I came to Melbourne.
What did you get up to whilst you've were at the Institute?
I tried to learn as much as I could about the clinical trial infrastructure in Australian and Melbourne. I met many different people involved in clinical trials here in Melbourne, investigators, researchers, study nurses and people in administrative functions.
I spoke with investigators and responsible persons from the University of Melbourne about how we could make the ideas described above come to fruition.
For two days the Dean of the Medical Faculty at the University of Bonn came to Melbourne as well to support the project and joined in on the discussions.
Were you happy with what you achieved whilst here?
Yes, absolutely. I was delighted that everyone I met was entirely open to the idea of a clinical trial collaboration. We had many productive discussions and it looks like the idea will continue to develop.
Besides all the necessary groundwork we need to do for this, we were also able to identify clinical trials that are ready to go in both places and could immediately benefit from this project.
When I am back in Bonn I am very much looking forward to further working on the set up of this trial platform.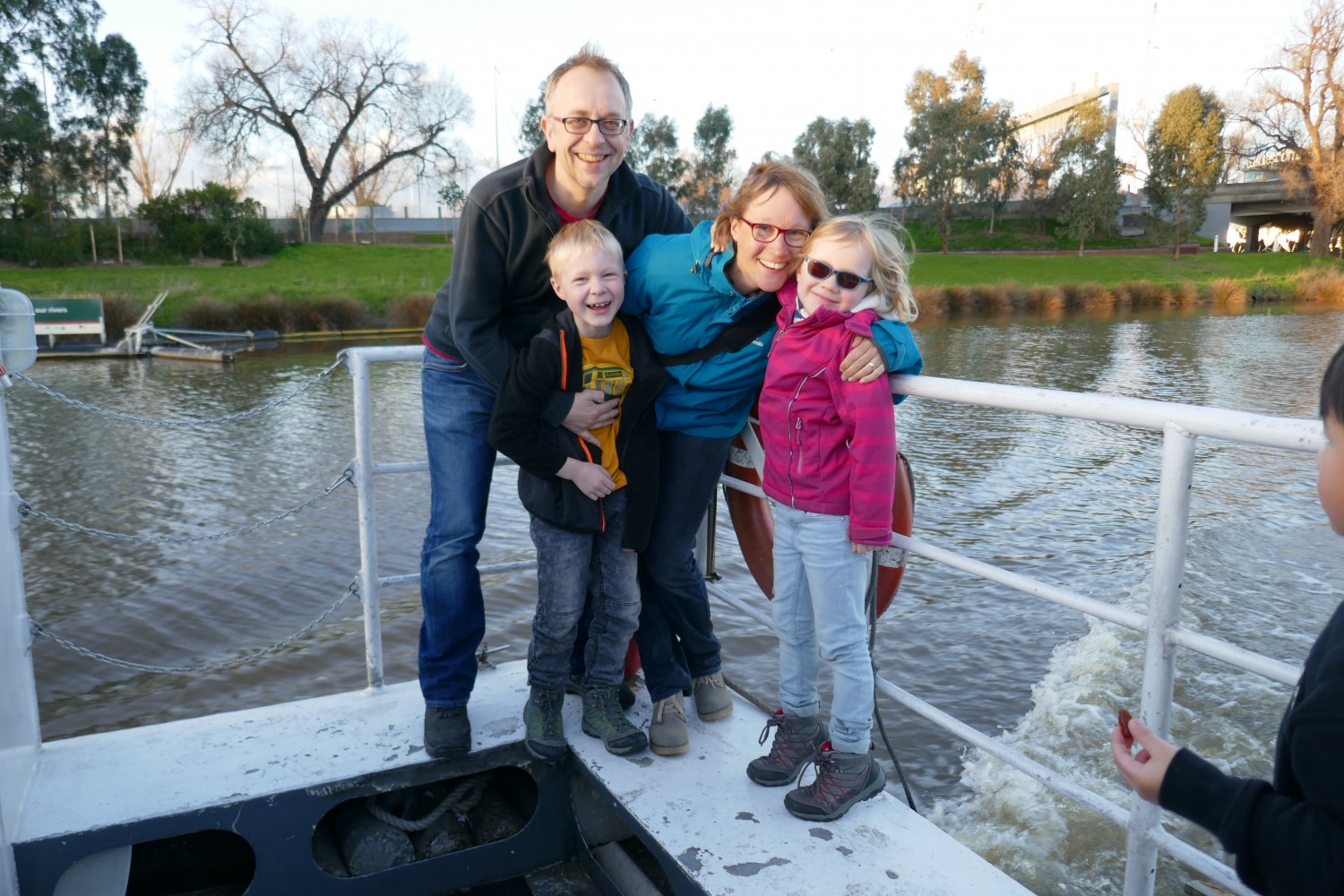 Dr Christoph Coch with his family in Melbourne
What have you been up to outside the lab? What do you think of Melbourne?
Melbourne is a fascinating place with lovely people making it easy for you to feel welcome. I enjoyed the positive mindset of many people here which is really helpful to work on a project together.
One month is really only enough to get your first taste of Melbourne. Luckily, my wife and small kids could come with me and they saw much more of Melbourne than me. But at the evenings and on the weekends I got a good impression of the city and the surrounding areas as well.
The beach is wonderful even in winter. It is so enjoyable to have a beach so close. I very much like the multi-faceted restaurants and bars. The food was very good. But I've learnt it is better not to go too hungry to a restaurant as it seems like the waiters here love to explain a lot. You have to attend a food lecture before you eventually get to eat!
I will definitely miss the footy. It is a nice game I loved to watch. So, I don't understand why Melbourne fell to second place of the most enjoyable cities in the world. That must be an evil case of corruption. Or the waiter talked too long to the assessors of this ranking before he brought the food.
News Archive