27 Jun 2018
Doherty Institute shines at NHMRC Research Excellence Awards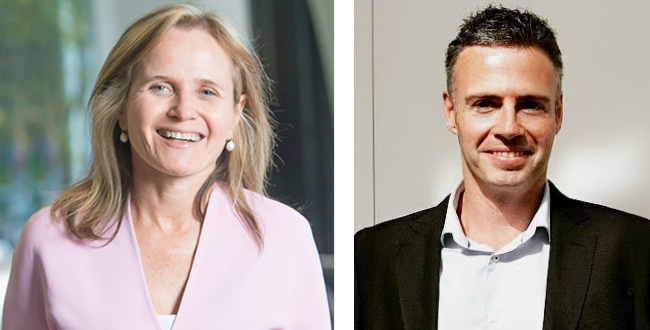 Two of the 20 National Health and Medical Research Council (NHMRC) Research Excellence Awards have gone to Peter Doherty Institute for Infection and Immunity (Doherty Institute) researchers, emphasising the Institute's position as one of Australia's leading medical research institutes.
University of Melbourne Professor Sharon Lewin, Doherty Institute Director, and University of Melbourne Dr Daniel Pellicci, a Senior Research Fellow at the Institute, were identified as the top ranked Practitioner Fellow and RD Wright Biomedical applicants, respectively at a ceremony in Canberra tonight.
For Dr Pellicci, this tops of a magnificent year having been awarded the Commonwealth Health Minister's Medal for Excellence in Health and Medical Research last month for his work on the 'first responders' of the immune system, particularly the roles of cells known as unconventional T cells.
These cells kick-start an immune response and can recruit other aspects of the immune system within minutes to mount a comprehensive fight against infection.
"In what is a really competitive environment, it's a thrill to be recognised by the NHMRC in this way. It's added motivation to continue to try and solve the mysteries of the immune system," Dr Pellicci said.
Professor Lewin's research vision is to lead an integrated clinical and translational research program to develop and test new strategies to eliminate the need for life-long treatment of HIV and reduce liver-related co-morbidities in individuals with HIV-hepatitis B virus co-infection.
"I'm honoured to be presented with a Research Excellence Award. Despite the great successes in antiretroviral therapy for HIV, treatment is lifelong and there is no cure." said Professor Lewin.
"One of the most important scientific and economic challenges in the HIV response globally is to find a way to avoid lifelong treatment and reduce ongoing complications of co-infections, and that's what my Practitioner Fellowship will allow me to do."
NHRMC CEO, Professor Anne Kelso, said every scientist honoured has presented the highest quality research applications for their grant category as determined by independent expert review panels.
"Considering NHMRC received over 5,400 applications last year, these are truly great achievements. Both Sharon and Daniel are incredibly accomplished researchers and I congratulate them on their awards," Professor Kelso said.
News Archive