17 Feb 2020
Doherty Institute Fleming Fund Fellowships in Papua New Guinea
A Doherty Institute mentoring team recently conducted a two-day workshop in Port Moresby for Fleming Fund Papua New Guinea (PNG) Fellows in an effort to enhance the country's capability to address antimicrobial resistance (AMR).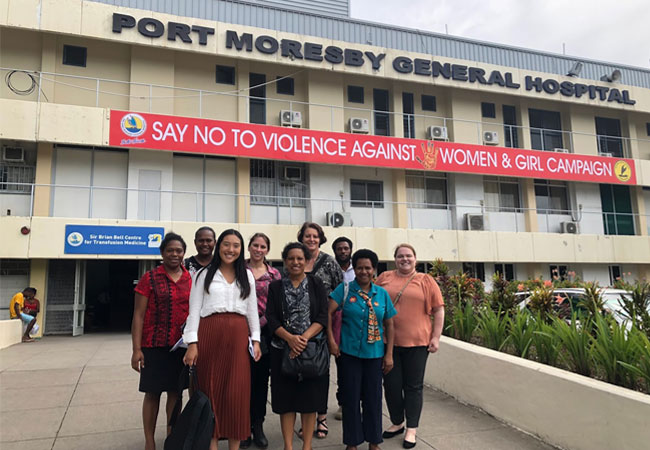 Site visit at Port Moresby General Hospital with Doherty Institute and Port Moresby General Hospital and Central Public Health Laboratory staff members
The mentoring team is part of a consortium that includes the Microbiological Diagnostics Unit Public Health Laboratory and the National Centre for Antimicrobial Stewardship at the Doherty Institute, the University of Melbourne's Faculty of Veterinary and Agricultural Sciences and CSIRO's Australian Animal Health Laboratory
The consortium has been designated as the Host Institution for Fellows in PNG, identified by the Fleming Fund as a target country due to recent advancements to combat AMR.
In PNG, eight Fellowships across human and animal health will focus on improving laboratory capacity for AMR, surveillance of AMR, antimicrobial usage and consumption, across human and animal health.
The Fellowships will consist of ongoing mentoring and training between the Fellows and the mentoring team, opportunities to build professional networks and collaborative projects using a One Health approach.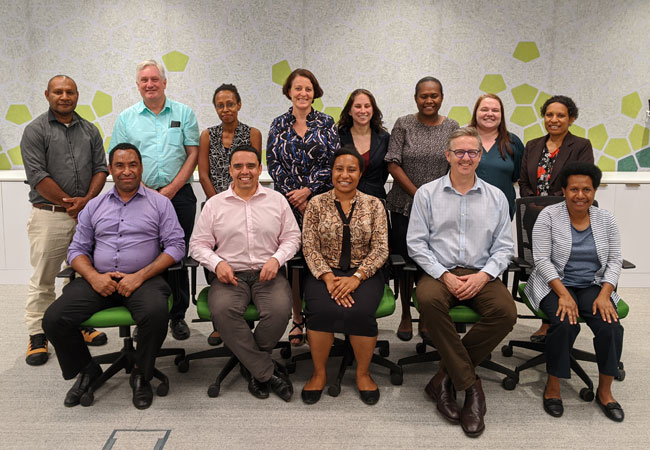 PNG fellows and mentors – Daniel Kelly, Mauricio Coppo, Judith Lizanne Nui, Ben Howden, Temas Ikanofi, Mathew Agive, Glenn Browning, Elaine Hevoho, Kirsty Buising, Courtney Lane, Marjorie Tehina Elijah Baro, Sarah Baines and Gabriella Kepa Ak.
Professor Ben Howden, Director of the Microbiological Diagnostic Unit Public Health Laboratory and Program Director of the Institute's Fleming Fund program said the program is an excellent opportunity to support key professionals and institutions to make meaningful progress and become leaders for addressing AMR in PNG.
"The workshop was an excellent opportunity to understand the local context and key priority areas identified by the Fellows and their institutions, and to start to build an ongoing relationship with the Fellows," Professor Howden said.
PNG developed a multisectoral National Action Plan (NAP) on Antimicrobial Resistance (2017- 2020) with multiple objectives to address AMR, including improving awareness and understanding of AMR through education and training, strengthening surveillance, diagnostic capacity and research on AMR and strengthening appropriate access to and use of antimicrobials.
PNG has also established a multisectoral National AMR Steering Committee (NAMRSC), supported by sectoral Technical Working Groups (TWGs) who will address the strategic objectives of the NAP. The implementation of the NAP will be supported by Fleming Fund activities.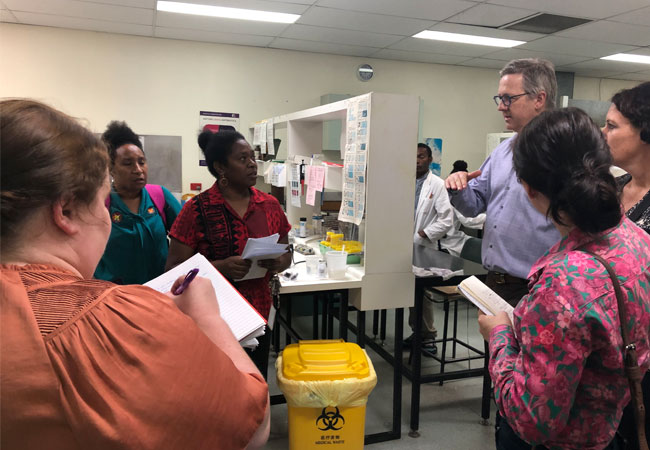 Site visit to Port Moresby General Hospital and Central Public Health Laboratory
The mentoring team are also providing training in Bhutan, Nepal and Timor-Leste under the Fleming Fund Fellowship program.
The Fleming Fund is a £265 million UK aid investment to tackle antimicrobial resistance (AMR) in low- and middle-income countries around the world. The programme is managed by the UK Department of Health and Social Care, in partnership with Mott MacDonald, the Fleming Fund Grants Management Agent.
The Fleming Fund Fellowship Scheme provides mentorship and capacity building opportunities for professionals across Asia and Sub-Saharan Africa, supporting in-country professionals, including clinicians, vets, pharmacists and scientists, to advance their skills to lead and contribute to the global effort to address AMR through increased surveillance and increased data sharing between countries.
News Archive