27 Jun 2023
Doherty Institute and SK bioscience join forces against influenza
The Peter Doherty Institute for Infection and Immunity (Doherty Institute), home to one of five WHO Collaborating Centres for Reference and Research Influenza (WHOCCRRI) in the world, has signed a research collaboration agreement with vaccine and biotech company SK bioscience, based in South Korea, to support and further research in influenza biology, vaccines and antivirals.
The program will include testing of anti-influenza compounds to identify new antivirals, capacity building in low- and middle-income countries of the region and the development of a new influenza vaccine platform.
In an online signing ceremony, attended by Professor Kanta Subbarao, Director of the WHOCCRRI at the Doherty Institute, Professor Ian Barr, Deputy Director of the WHOCCRRI at the Doherty Institute, Jaeyong Ahn, CEO of SK bioscience, and Hun Kim, President of Global R&BD of SK bioscience, Doherty Institute Director Professor Sharon Lewin said that this collaboration agreement is a significant milestone in the organisation's shared commitment to tackling infectious diseases and promoting public health
"By collaborating with SK bioscience, we will strengthen our ability to respond to global challenges through exchanging knowledge and fostering innovation. Together, we will make a lasting impact in the prevention and treatment of infectious diseases, like influenza, around the world," said Professor Lewin.
Jaeyong Ahn said "We expect a synergy combined with our capability in developing the world's first quadrivalent cell culture-based influenza vaccine and the infrastructure of the Doherty Institute, a leading research institution on global infectious diseases. We will strengthen global partnerships with various organisations and continuously expand cooperative areas to establish a response system against infectious disease pandemics in the world."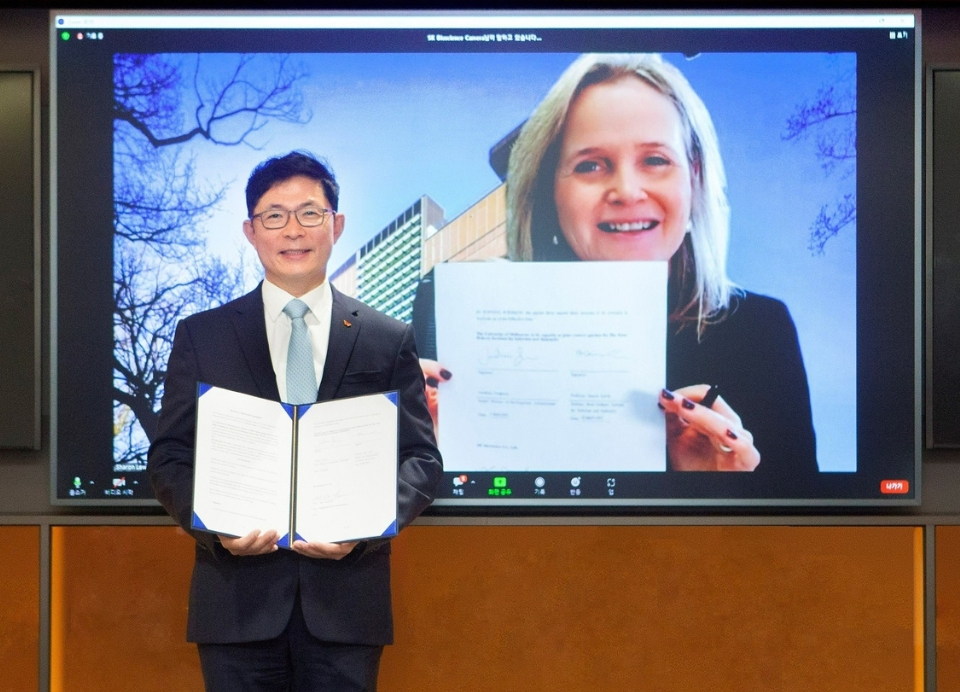 Jaeyong Ahn, CEO of SK bioscience (left) and Professor Sharon Lewin, Director of the Doherty Institute at the signing ceremony on June 26, 2023.
News Archive