18 Feb 2020
Commonwealth announces $2m MRFF competitive funding for COVID-19 vaccine
University of Melbourne Professor Sharon Lewin, Director of the Doherty Institute, has welcomed the announcement that the Commonwealth Government will contribute $2 million towards a vaccine for the novel coronavirus (COVID-19).
The Australian Prime Minister, the Hon Scott Morrison MP, was joined by the Federal Minister for Health, the Hon Greg Hunt MP, at the Doherty Institute, a joint venture of the University of Melbourne and Royal Melbourne Hospital, to announce the funding from the Medical Research Future Fund (MRFF) for an open and competitive Grant Opportunity to develop a coronavirus vaccine.
Minister Hunt said they would offer an initial $2 million and any further funding would be determined by the "quality of the grants".
"We'll get the NHMRC (National Health and Medical Research Council) to advise on the merit order of those," he said.
"This is a very welcome announcement for Australia's research community and will contribute significantly to the body of work currently being undertaken across the country, including here at the Doherty Institute," Professor Lewin said.
"We will certainly apply for this funding to boost our efforts to create a vaccine for this virus, which as of today, has infected more than 70,000 people across the globe.
"Our infectious diseases experts have been working on the response to COVID-19 since we first heard about the outbreak in January.
"We have clinicians prepared to treat patients in hospitals; scientists continuing to screen for and diagnose new cases; epidemiologists working closely with the State and Commonwealth Governments on policy; and researchers working on antibody tests, treatments and a vaccine."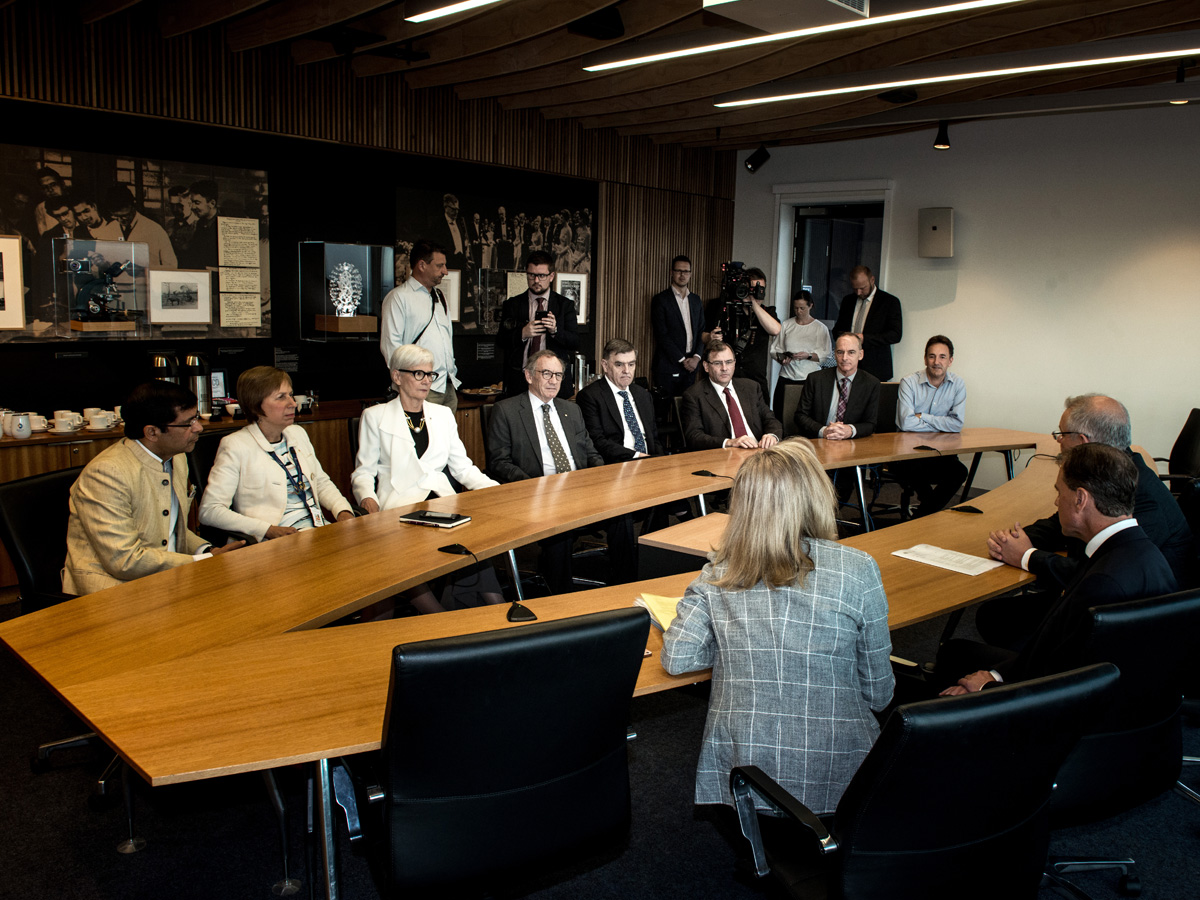 Professor Lewin was joined by senior leaders from the University of Melbourne (UoM) and the Royal Melbourne Hospital (RMH), including the Vice-Chancellor of the University, Professor Duncan Maskell, and Board Chair of RMH, Linda Bardo Nicholls and members of the Doherty Council, to brief the Prime Minister and Minister Hunt on the work being conducted at the Institute.
Speaking at a media conference after the visit, the Prime Minister said: "The world got to know a lot about the Doherty Institute when they were the first to grow and share the coronavirus and that spoke volumes about the capability of the science and technology base that we have here in Australia.
"Overnight successes take years and years and years to achieve, as we all know, and this was another example of that," he said.
News Archive