17 May 2023
COMBAT-AMR hosts antimicrobial stewardship workshop in Fiji
A two-day workshop was facilitated by the COMBAT-AMR program in Fiji to strengthen antimicrobial stewardship capacity as part of a broader training program within the region.
The workshop was co-funded and sponsored by the Essential Medicines Authority, and attended by 20 participants from various hospitals across Fiji, including Lautoka Aspen Medical, Labasa Hospital, and the Colonial War Memorial Hospital (CWMH). In addition to doctors and pharmacists, attendees included representatives from Fiji National University and the Fiji Pharmaceutical & Biomedical Services.
Training throughout the workshop focused on auditing, reporting, adult learning and capacity building. Attendees received training and information on conducting the National Antimicrobial Prescribing Survey (NAPS) as a hospital or quality audit, with the session being facilitated by Professor Kirsty Buising, co-lead of the COMBAT-AMR program. Participants undertook a practical session at CWMH to apply the workshop learnings in a hospital setting.
Attendees also learnt how to utilise the Western Pacific Antimicrobial Stewardship Program Online Educational Modules (WPAMS) within their hospitals. These modules were developed as an interactive learning tool, allowing users to watch modules and then enhance their learning by having discussions related to local cases.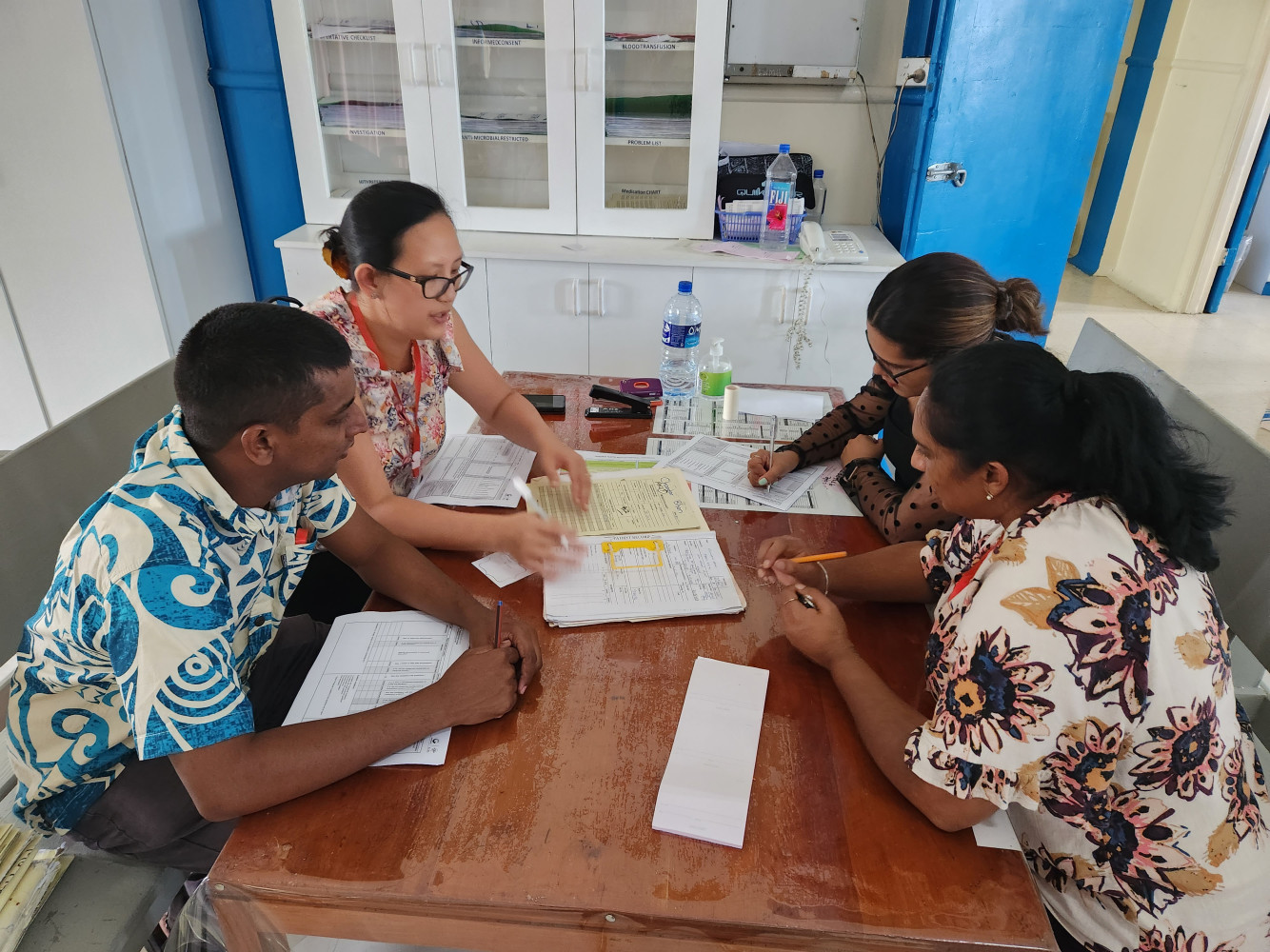 Workshop attendees during the practical session at CWMH
Participants found the workshop informative and enlightening. Senior Pharmacy Officer from the Pharmaceutical and Biomedical Services Centre, Reenal Chand, remarked, "Each [facilitator] brought a different perspective, and it was very interesting to learn from them in this format. I hope we can have further guidance and other educational sessions in the future, I feel like we are just getting started and there's so much more we can do together to fight AMR, educate our healthcare professionals and bring the different disciplines together in one forum."
Pharmacist Silpa Kumar of CWMH and the Ministry of Health and Medical services also found the workshop useful. She noted, "AMS training was indeed a pleasure attending. It has refreshed, redirected and remodelled us towards fighting antimicrobial resistance."
"The workshop was a fabulous opportunity to share experiences and learn from one another," remarks Professor Buising.
"The first day focused on practical auditing activities to help monitor and drive improvement in antibiotic prescribing, while the second day included sessions on medical education and leadership skills that would be very useful to establish and sustain hospital AMS programs."
"It was a great experience with lots of discussion and collaboration."
The workshop provided an opportunity for healthcare professionals to come together and learn about AMS and how to better respond to future situations. It is hoped that this workshop will contribute to the progress of other key themes in the region, such as improving infection prevention and control (IPC) in healthcare facilities.
---
This article was first published by COMBAT-AMR.
COMBAT-AMR works in partnership with government, National AMR Committees and public health counterparts in Fiji, Samoa, Solomon Islands and Papua New Guinea, to implement capacity building and training activities to support the prevention, diagnosis, surveillance and management of AMR pathogens, under the framework of National AMR Action Plans and priorities. COMBAT-AMR is supported by the Department of Foreign Affairs and Trade's Indo-Pacific Centre for Health Security.
News Archive