24 Nov 2017
Increasing incidence and geographic reach of Buruli ulcer in Victoria
Australia is one of 33 countries worldwide with reported cases of Buruli ulcer (BU), a highly focal and neglected tropical disease caused by Mycobacterium ulcerans mostly found in sub-Saharan Africa [1].
Almost all Australian cases of BU occur in Victoria, where it was first described in the Bairnsdale region in the 1940s. It has since emerged in other coastal areas in Western Port, Philip Island, Frankston-Langwarrin and the Bellarine Peninsula [2,3]. Most recently, the disease has emerged on the Mornington Peninsula and several south-eastern bayside suburbs of Melbourne. Since becoming a notifiable condition in 2004, over 1000 cases of laboratory confirmed BU have been notified (Figure 1). Close to 70% of cases in 2017 were linked to the Mornington Peninsula. There has also been a doubling of cases noted amongst residents in the Frankston-Seaford area.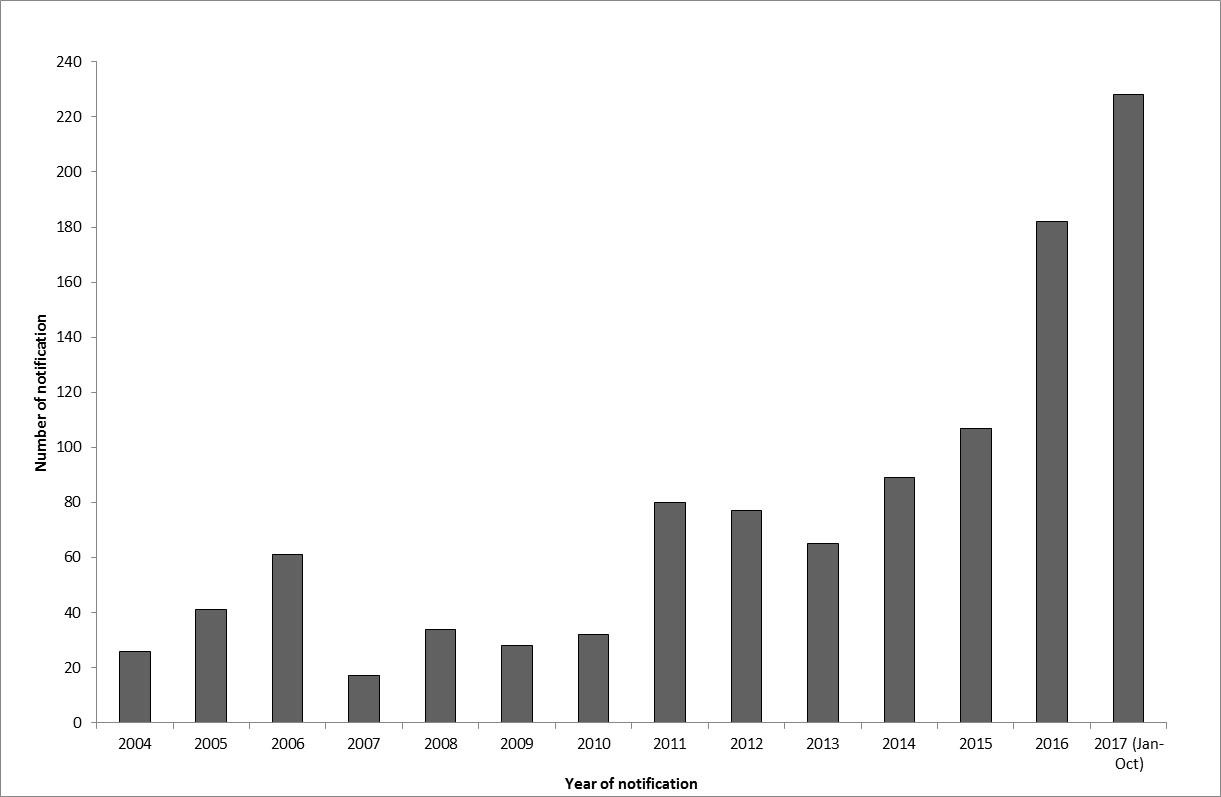 All clinical samples of suspected BU in Victoria are forwarded to the Victorian Infectious Diseases Reference Laboratory (VIDRL) Mycobacterium Reference Laboratory (MRL) for rapid diagnostic testing with polymerase chain reaction and identification of culture isolates.
The exact mode(s) of transmission is not yet fully understood and may vary across different epidemiological settings and geographic regions [4]. In Victoria, exploratory studies have implicated possums and mosquitoes in the transmission pathway [4,5]. A strong correlation has been found between positive possum faecal samples and human cases in Point Lonsdale/Queenscliff [4] and Sorrento/Blairgowrie [6]. Possum faecal surveys are useful to detect environmental presence of M. ulcerans, especially in emerging areas with no human cases. Recently, the Department of Health and Human Services (DHHS) and the MRL undertook possum faecal surveys in several areas in the Mornington Peninsula and south-eastern bayside of Melbourne in order to progress this understanding.
In addition to improving surveillance activities and initiatives to raise awareness and improve early diagnosis, DHHS is partnering with a range of organisations including the Peter Doherty Institute of Infection and Immunity to better understand disease epidemiology and transmission and inform evidence based public health interventions.
Authors: Ee Laine Tay (DHHS), Janet Fyfe (VIDRL), Simon Crouch (DHHS)
The authors wish to acknowledge the contributions from multiple agencies and groups working on this issue in Victoria.
News Archive