30 Jul 2018
AIDS 2018: Youry Kim's Amsterdam Anecdote
We asked the Doherty Institute's contingent who headed to Amsterdam for the 22nd International AIDS Conference to share their insights as the week unfolds.
Youry Kim, a PhD student in Professor Paul Cameron's laboratory, shares his insights.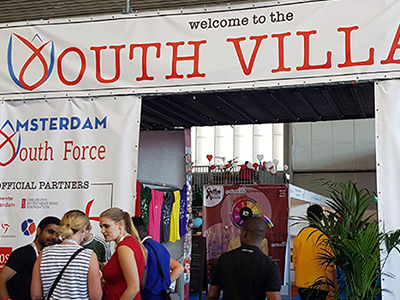 I woke up on the fourth day of the AIDS 2018 conference with butterflies. Today was the day that I put my hard work on show for everyone to see.
All the early mornings, late nights, weekends spent in the laboratory performing experiments had cumulated into a single 120 by 90 centimetre poster on display for the other 18,000 delegates to come and see.
I was both excited and anxious at the same time. I spent the morning wondering if anyone would want to have in-depth conversations about the work, let alone come and see the poster.
To my surprise, I engaged in thoughtful and stimulating conversations with fellow scientists who have differing scientific backgrounds, not to mention different countries of origin. I was grateful to be able to have such an amazing experience.
After the poster session wrapped up, I made my way to the Global Village. The Global Village is a space in which diverse global communities can meet, learn and share their stories.
It is free and open to the public and there are always spectacular live performances and networking zones. This space attracts not only the public, but also scientists who attend the main conference, as it is a place to see our research translated into the community.
AIDS2018 saw the highest number of youth participation ever recorded in the history of this conference. Youth had come in full force. With such strong determination and hard work, the Amsterdam Youth Force, together with other youth-related organisations set up the Youth Village.
This space provided a platform for young people to participate in activities, learn and interact with other young people.
I spoke to one of the committee members of the Amsterdam Youth Force and was surprised to learn that all this had been set up in under seven months and boy was it an impressive feat!
The purpose of setting up a youth orientated space was to have a place in which youth could access numerous youth organisations and not have to navigate the enormous Global Village space to find information that pertained to them.
All too often, youth are excluded from decisions and choices in the political sphere that directly have an impact on them. This year, the youth were sure to make their presence known.
The amazing achievement these talented young people have succeeded in doing, especially in such a short time, force me to reflect on my youth and whether or not I had such will and determination in fighting for a cause I so strongly believed in.
News Archive