Project: Understanding immunological interference during recall responses to variant influenza vaccine strains: mechanisms and impact
WHO Collaborating Centre for Reference and Research on Influenza
The broad aim of this PhD project is to determine whether recalled memory B cells against epitopes shared with past strains dominate vaccine responses among participants who are highly vaccinated and hence limit the generation of B cells and antibodies against epitopes that are unique to the new vaccine strain. In turn, a core component of this project will be to understand the epitope range of B cells and antibodies induced by vaccination among participants with different vaccination histories. The epitope range of influenza reactive B cells will be partially defined by flow cytometric analysis of B cell binding to influenza protein probes representing current and past strains, and will be further defined by sorting single influenza-reactive B cells to sequence and express their antibodies. The strain and epitope specificity of human B cell-derived antibodies will then be determined via standard serological techniques using wild type and epitope engineered viruses. Similar methods will be used to understand the epitope range of serum antibodies induced by vaccination. In summary, this project offers to the opportunity to learn a broad range of techniques in cellular immunology, serology, virology and molecular immunology; to link findings to a large epidemiological data set using statistical methods and programs such as R; and to contribute to an important area of translational research.
Contact project supervisor for further
information and application enquiries
Project Supervisor

Dr Annette Fox

Project Co-supervisor

Associate Professor Sheena Sullivan
Dr Yeu Yang (Ryan) Tseng

Project availability

PhD/MPhil
WHO Collaborating Centre for Reference and Research on Influenza
Annette.Fox@influenzacentre.org
2 vacancies

Themes

Immunology
Viral Infectious Diseases

Cross Cutting Disciplines

Discovery Research
Computational Science and Genomics
Clinical and health systems research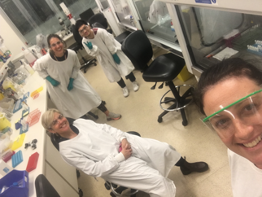 The WHO Collaborating Centre for Reference and Research on Influenza (WHOCCRI) is a world-class influenza virus surveillance laboratory. A key goal of our work is to identify strategies to improve the immunogenicity and, therefore, effectiveness of influenza vaccines. It can be challenging to induce immunity against rapidly evolving viruses such as influenza. This is in part due to virus escape from immune recognition, but may also be due to a propensity for vaccines to induce more antibodies against past than current strains.
WHO Collaborating Centre for Reference and Research on Influenza Current Projects