Project: Synergistic and antagonistic interplay between Streptococcus pneumoniae and respiratory viruses
Satzke Group
The contribution of bacterial-viral co-infections to the onset and severity of disease is increasingly attracting interest from researchers globally. Specifically, it is well established that co-infections of Streptococcus pneumoniae with respiratory viruses (e.g. Influenza or Respiratory Syncytial Virus) impact the severity of acute respiratory infections. This is because viral replication creates a more hospitable environment for pathogenic bacteria of the respiratory tract to flourish, predisposing individuals to a bacterial superinfection.
However, recent research has found that the interplay between pneumococci and viruses is more complex than previously anticipated. We and others have shown that some aspects of co-infection are synergistic (resulting in greater disease severity), while others are antagonistic, where the presence of one pathogen negatively impacts the other.
In this project, you will elucidate the underlying microbiological and/or immunological mechanisms that govern the synergistic and antagonistic aspects of the interplay between pneumococci and respiratory viruses. Key approaches to this project include: working with in vivo models, as well as microbiological and immunological analysis of tissues from the respiratory tract and systemically.
Your work will help us understand the complexities of pneumococcal-viral co-infection, including their implications for the effectiveness of vaccines targeting these pathogens.
Contact project supervisor for further
information and application enquiries
Project Supervisor

Associate Professor Catherine Satzke

Project Co-supervisor

Dr Sam Manna

Project availability

PhD/MPhil
Master of Biomedical Science
Honours
Satzke Group
catherine.satzke@mcri.edu.au
2 vacancies

Themes

Host Pathogens Interactions

Cross Cutting Disciplines

Epidemiology
Global Health
Translational and Clinical Research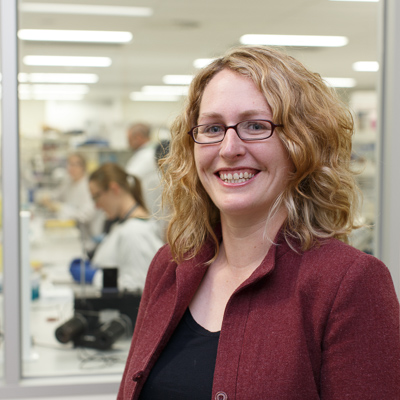 The Satzke group conducts research in a clinically-relevant context. We focus on the microbiology of two pathogens of major global health importance (pneumococcus and group A streptococcus) to understand their pathogenesis, interaction with viruses, and how infections can be best prevented with vaccines. We collaborate closely with immunologists, clinicians and epidemiologists, including in countries in the Asia-Pacific region, to facilitate translation and global impact.
Our laboratory also has the resources and expertise to adapt flexibly depending on the findings you generate throughout the year, or to additional COVID-19 restrictions. These include access to clinical and laboratory isolates, clinical samples, and bioinformatics expertise.
Satzke Group Current Projects