Lab: Kedzierska and Turner lab
Supervisor(s): Professor Katherine Kedzierska, Stephen J. Turner, Dr Bridie Clemens, Brendan E. Russ
Project: The role of SATB1 in virus-specific CD8+ T cell mediated immunity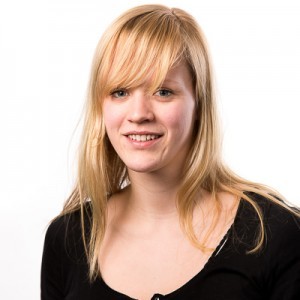 How should we best describe you?
I am a third year PhD student who is working on the role of SATB1 in differentiating T cells in the Kedzierska lab by using the influenza virus as a model.
When did you start your project and when do you expect to complete?
I started my PhD in March 2015. I am going to finish in the lab around March 2018 and hopefully submit my thesis on the 3.5 years mark latest (September 2018).
What biological process/ disease/ etc are you trying to understand in your research?
CD8 T cell differentiation and Influenza
What are the implications of this research?
Understanding the basics of CD8 T cell differentiation and how they are orchestrated can help us to better address T cells during infection and disease.
What was your undergraduate degree?
Bachelor of Science (Biology) and Master of Life and Medical Sciences.
How did you hear about the Doherty Institute?
I met Steve (my supervisor) at my previous University where I conducted my MSc in Bonn, Germany. The Peter Doherty Institute was impressive, in particular the great network of scientists and their cross-collaboration.
What made you decide to study here?
Melbourne is the most liveable city in the world for seven years in a row now. Is there anything to add? Joke aside, I really like the whole picture that is coming together here: the people, the University and of course the research that is done at the Doherty Institute.
What does a typical day look like for you at the Doherty Institute?
I feel more and more that it's not about a day at the Doherty but it's a lifestyle. If you are a dedicated researcher you basically never stop. It starts for me with checking my emails once I wake up in the morning. Then I cycle to work. That's the first great fact about the Doherty- we even have a committee that looks after the bike stores and now even offer a free bike clean! After that it's hard to say what a typical day looks like as there is a lot of variety. It depends on what you have planned. Some days can be very busy with experiments and other days I stay at my desk in the office to organise things like planning experiments, ordering reagents, analysing generated data, doing literature research, work on scientific talks etc. In between you get some breaks by talking to people who either come to see you or I go to see them (it's probably me chasing them to ask something or to get something off them most of the time). Another great thing about the Doherty is that there are a lot of experts in the field who are all really friendly and helpful in answering your questions.
What gets you excited about coming here every day?
Most of this I probably already answered in the previous point. The friendliness and helpfulness of the people at the Institute. And Peter Doherty himself is of course pretty inspiring.
Can you describe a pivotal or rewarding moment during your time here?
Hm, one moment that I remember which was a "wow" moment for me when we had a patient who received a lung transplant a couple of years ago. He came to visit us during a lab meeting. If you are too focused on your specific area of research you may sometimes forget the bigger picture and benefit. This patient basically told us his story about receiving his lung transplant and he finished his talk by thanking us all about the research that we are doing because without this research he wouldn't be here with us today. This moment was very moving. And it reminded me that even if research takes a long time, sometimes a lot of frustration and repeats but in the end if you put the bigger picture together we can improve our understanding and make a change.
Who is your supervisor and can you say anything about them that inspires you?
I have 4 supervisors- they are all really great, smart and caring people. Katherine inspires me by somehow managing to stay on top of everything with the amount of work she faces on a daily basis. She always knows what I'm up to with my experiments and really cares about her students. Whenever you send her an e-mail to ask something she replies 24/7. I honestly have no idea how she is doing this. Steve always has great visions about science in general and my project. There are always exciting new ideas and directions in which I can head to.
Did you expect to be working in this area of research? Has your career/ education path been what you expected at the outset?
Coming from a broader biology background in which you would also deal with marine and plant biology I figured out quickly that I was more interested in the human related biology and research. So yes, I am quite happy and expected to work in this area of research.
What are the challenges in your role?
Coffee keeps me awake so there are no challenges anymore.
What is most rewarding?
Publications
Who outside your immediate area are you networking with? Are you getting acquainted with other areas of research? Has this sparked any new leads, collaborations, directions in your research, etc?
I am collaborating with the Lewin lab at the moment which brings me to the area of HIV infection.
What do you do when you aren't researching/studying/writing up your research?
I'm teaching/fascinating 3rd year students in Science.
I'm a Science Communication student at Unimelb therefore I'm blogging and designing a website for DOHaD ANZ.
I wish I would do more sports again as I did in my first year.
I also play in a Samba band.