Lab: Godfrey and McCluskey
Supervisor(s): Dr Daniel Pellicci, Dr Sidonia Eckle, Professor James McCluskey, Professor Dale Godfrey
Project: To investigate the role of unconventional T cells in health and disease settings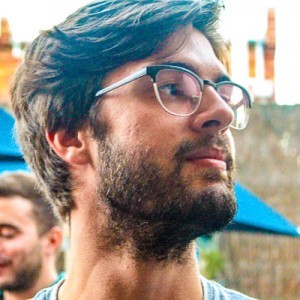 How should we best describe you?
I am a third year PhD student in the Godfrey and McCluskey laboratories currently working on two projects on understanding unconventional T cell subsets that may be important for human health, particularly in fighting bacterial infections.
When did you start your project and when do you expect to complete?
June 2015 and the expected complete date is late 2018.
What biological process/ disease/ etc are you trying to understand in your research?
Both subsets of T cells that I study recognize bacterial antigens and are capable of mounting an immune response to invading bacteria, in particular we are focusing on the important human pathogen [i]Mycobacterium tuberculosis[/i].
What are the implications of this research?
The goal of my research is to develop a reliable and accurate method of identifying unconventional T cells in humans so we can better understand what these cells look like and what role they play in infections such as tuberculosis. Ultimately, we would like to develop a vaccine that utilises unconventional T cells to fight infection.
What was your undergraduate degree?
Bachelor of Biomedicine (Hons) 2014
How did you hear about the Doherty Institute?
I enrolled into the Honours program the year that the Department of Microbiology and Immunology transitioned into the Doherty Institute.
What made you decide to study here?
I really enjoyed the Microbiology and Immunology subjects in my undergraduate degree and decided that I wanted to undertake further studies in this area. At the end of my third year, the Department of Microbiology and Immunology organized a 'speed dating' session with prospective supervisors for the Honours program. This was a really great way to meet with many of the supervisors and discuss the prospective projects in a single afternoon. I met with a number of researchers and applied successfully with the McCluskey laboratory. All of the laboratories in the department transitioned to the Doherty Institute the year I started Honours.
What does a typical day look like for you at the Doherty Institute?
One of the best parts about science is that no two days are alike! However, there are a few things that I do routinely such as culturing cell lines and processing human peripheral blood samples donated to our laboratory by the red cross. These tasks usually happen in the morning, leaving the rest of the day to perform the experiments that I plan at the start of the week. Some days I finish around 5-6pm, but often my experiments go late into the night. It's really up to you to decide how to use your time.
What gets you excited about coming here every day?
The most exciting aspect about coming in everyday is knowing that there is a chance I will get to discover something new that could lead to a better understanding about the immune system or even improve the health of patients.
Can you describe a pivotal or rewarding moment during your time here?
In my Honours year I was investigating the interaction between two proteins expressed on immune cells and we had a clear hypothesis based on previous literature about how this was occurring. To our surprise, after performing the experiments, we discovered that these two proteins were interacting differently than we hypothesised. It was incredibly rewarding to start with a hypothesis, thoroughly test it and then discover something completely unexpected.
Who is your supervisor and can you say anything about them that inspires you?
I'm fortunate to be part of two laboratories and have four supervisors, two from each laboratory. My day to day supervisor though is Dr. Daniel Pellicci whom I go to almost everyday for advice about experiments, planning, ideas as well as non-science related chats. Dan is a highly motivated and pro-active supervisor who provides lots of support with my work as well as offering me opportunities to progress in my own career. The best part about having Dan as a supervisor is his enthusiasm for science, which is infectious and motivates me to work to the best of my ability and really get excited about what I do.
Did you expect to be working in this area of research? Has your career/ education path been what you expected at the outset?
When I started my undergraduate degree, the goal was to study medicine and become a physician. However, in my third year I took all of the microbiology and immunology electives and decided I really enjoyed learning about the immune system and became interested in other career paths. Honours in Immunology was the next step for me to decide whether I enjoyed working in a laboratory. Fortunately, I had great supervisors and had a successful project so I decided that I wanted to continue with my research and enrolled to undertake a PhD in the McCluskey and Godfrey laboratories.
What are the challenges in your role?
The biggest challenge for me is staying organised and managing my time. Performing experiments, attending meetings and seminars, writing as well as keeping up to date with the literature are all important aspects of the PhD and require careful planning to make sure everything gets done. My supervisors really helped me with time management early on and gave me the skills to be organised and stay on top of things. There are so many questions I want to answer, so staying organised helps me to do as much as I can with my time here at the Doherty.
Who outside your immediate area are you networking with? Are you getting acquainted with other areas of research? Has this sparked any new leads, collaborations, directions in your research, etc?
Both of my laboratories are heavily involved with collaborations both internally within the Doherty Institute as well as externally in the Parkville precinct such as at WEHI, as well as Monash and internationally at Harvard. Many of these collaborations are important for my own research and allow me to draw on the expertise and techniques of other laboratories to answer common questions and progress with my PhD studies.
What do you do when you aren't researching/studying/writing up your research?
One of the best things about doing a PhD at the Doherty is you are not alone. I enjoy going to the pub on a Friday with fellow PhD students and attending the events organised by the department student association. To stretch my legs I enjoy running on the weekends and playing social baskketball.